Recipes
Smoked Salmon and Wasabi Crisps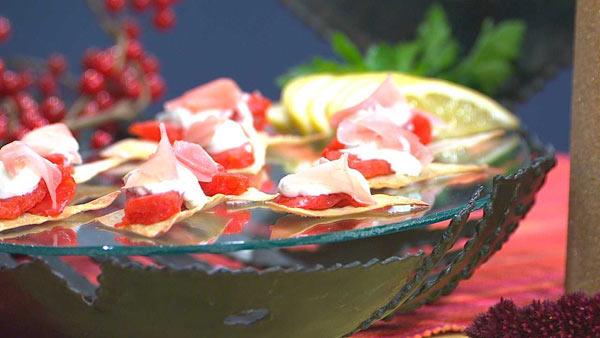 Servings: 13
Provided by: Chris Koetke
4 wonton wrappers
1 egg white lightly beaten
1/4 teaspoon salt
4 oz. thinly sliced smoked salmon, cut into 16 pieces
1/4 cup fat-free sour cream
1/2 teaspoon wasabi powder
2 teaspoons pickled ginger
Directions
1. Preheat oven to 350 degrees.
2. Cut each wonton wrapper in half to make rectangles. Cut each of these in half diagonally to make triangles.
3. Lay wonton wrappers on a baking sheet lined with parchment. Brush with egg white and sprinkle with 1/8 teaspoon salt.
4. Bake in the oven for about 12 minutes or until lightly browned. Remove from oven and let cool.
5. Meanwhile, combine sour cream, wasabi, and remaining 1/8 teaspoon salt.
6. Shortly before serving, garnish each wonton triangle with salmon and top with sour cream mixture and ginger. Serve immediately.
Nutritional Analysis: Cals: 18, T.Fat: Tr, Sat F: Tr, Chol: 2gm, Sod: 105mg, Carb: 2gm, Fib: Tr, Pro: 2gm