Recipes
Smoked Salmon and Brie Pizza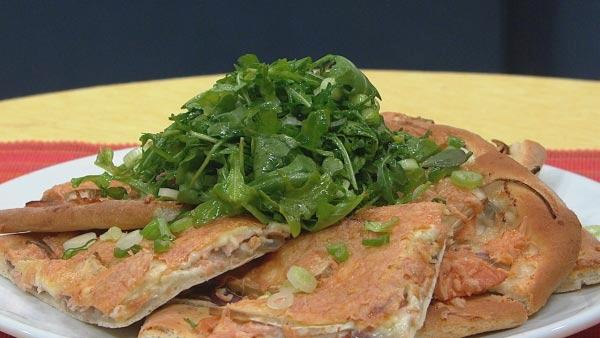 Servings: 6 - 8
Difficulty: Moderate
Time:
Provided by: Chris Koetke
1 pound pizza dough
Flour for rolling out the dough
1/2 teaspoon ground black pepper
1 cup thinly sliced red onion
8 oz. thinly sliced smoked salmon
6 oz. brie cheese, cut into thin (less than 1/4-inch thick) slices
1 1/2 cups grated mozzarella cheese
3 oz. arugula
2/3 cup thinly sliced green onions
3 Tablespoons lemon juice
1 1/2 Tablespoons extra virgin olive oil
Additional freshly ground black pepper
Directions
1. Roll out the dough until it is quite thin so that it is about 12" x 18." You can also roll it out into 2 smaller pieces. Place dough on a baking sheet lightly greased with olive oil.
2. Sprinkle the dough with black pepper and onions. Tear the salmon into smaller pieces and place on top of the onions. Top with brie slices and then the mozzarella.
3. Bake in a 425 degree oven for 25-30 minutes or until the pizza is nicely browned and the dough is well cooked.
4. Meanwhile, mix arugula, green onions, lemon juice, and extra virgin olive oil.
5. Serve hot pizza slices topped with arugula salad and black pepper to taste.
* Smoked salmon and brie are two great flavors that are perfect together and when combined on a pizza, they really shine. The lemony salad with spicy arugula that tops the cooked pizza is a necessary component as it balances out the rich flavors of the pizza.