Recipes
Shrimp and Grits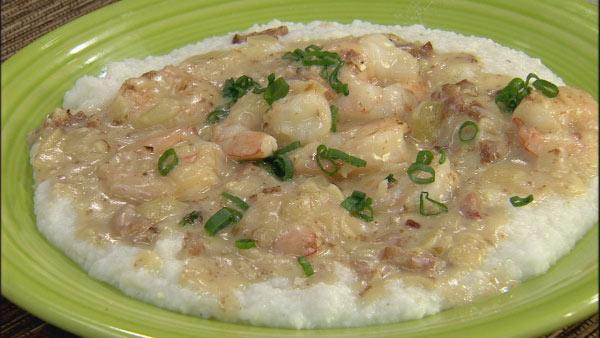 Servings: 4
Difficulty: Moderate
Time:
Provided by: Chef Chris Koetke
1/3 lb. bacon, diced
1 lb. raw shrimp (21-25 or 26-30 size) peeled and deveined
6 Tablespoons minced onion
1 garlic clove, minced
2 1/2 Tablespoons flour
1 1/2 cups clam juice
1/2 cup milk
1/8 teaspoon ground black pepper
Hot sauce to taste
3 Tablespoons thinly sliced green onions
Stoneground grits (see recipe below)
Directions
1. Saute bacon in sauté pan until rendered and lightly browned. Remove from the pan, leaving the fat still in the pan.
2. Increase the temperature of the pan to high. Add the shrimp to the pan and sauté just until lightly browned on both sides, but not completely cooked through. Remove from the pan.
3. Add the browned bacon back into the pan along with the onion and garlic. Cook for several minutes over moderate heat.
4. Add flour and cook for a couple of minutes.
5. Add clam juice, milk, and black pepper. Bring to a boil while stirring frequently. When it boils and thickens, add the shrimp back in and cook for several more minutes. Add hot sauce to taste.
6. To serve, place some grits on a plate and top with the shrimp mixture. Sprinkle with green onions and serve.
Stone Ground White Grits
Ingredients:
6 cups water
1 1/2 cups clam juice
2 teaspoons salt
1/4 teaspoon white pepper
2 cups coarse stone-ground white grits
3 tablespoons butter
1. Bring the water, clam juice, salt and pepper to a boil in a heavy-bottomed large saucepan.
2. Pour in the grits in a steady stream while stirring constantly. Once it comes to a boil, reduce heat to low. It is important to stir the grits often, being sure to scrape the bottom of the pan so that the grits do not stick to it and burn. It will take about 30 minutes until the grits become tender.
3. Mix in the butter and serve. (If the grits become too stiff, simply add some more hot water.)
Note: The key to great grits is the quality of the base ingredient -- the grits themselves. Purchase stone ground grits as they have a great flavor. If you cannot find white grits, stone ground yellow grits will also work well.