Recipes
Sheboygan Style Bratwurst with Black Mustard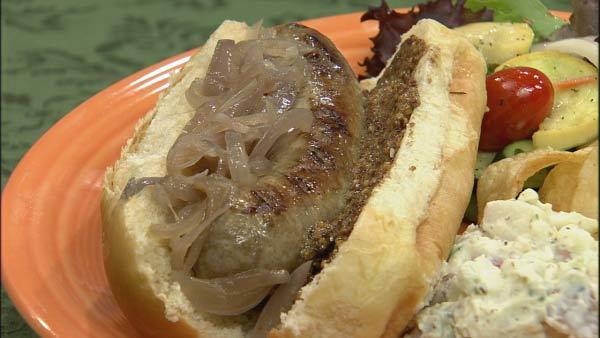 Servings: 20 links
Difficulty: Challenging
Time:
Provided by: Chef Chris Koetke
1 lb. veal (leg or shoulder)
3-1/2 lbs. pork butt (fat and meat)
1/2 lb. pork fat back*
1 cup milk
1/2 cup cream
2 eggs
2 teaspoons ground white pepper
1/2 teaspoon ground mace
3/4 teaspoon ground ginger
3/4 teaspoon ground nutmeg
2-1/2 Tablespoons salt
1-1/2 Tablespoons onion powder
3/4 teaspoon ground thyme
1/4 teaspoon dried sage
1 Tablespoon sugar
12 to 14 ft. well-rinsed hog casing
Directions
1. Cut the veal, pork and fat into a large dice. Freeze until very cold. Grind in a meat grinder (with a plate with approximately 3/16" holes) or in a food processor until coarsely chopped.
2. In a bowl, combine all remaining ingredients except the hog casing.
3. Pour the liquid spice mixture into the cold ground meat and fat. Mix vigorously until the meat becomes slightly elastic.
4. Using a sausage stuffer, stuff the meat into the hog casing and twist into 6" individual sausages, or form into patties.
5. To cook the links, simmer them in a generous quantity of water or beer (enough so the links are not crowded in the pot and the entire surface area of each link is well exposed to simmering liquid) until they are cooked through (150°F with an instant-read thermometer), 10 to 15 minutes.
6. Lightly brown the links in a sauté pan or on a grill until they reach 165°F with an instant-read thermometer, 5 to 10 minutes. Char on all sides. (To cook patties, sauté or grill them like a hamburger until they are cooked through, about 5 minutes per side depending on the thickness of the patties.)
*Pork fat back is the firm fat from the back of the hog, although the fat from the leg will also work.
Note: Cooking twice results in a moister sausage and increases its flavor.
Accompanying recipe: Black Mustard