Recipes
Sesame Miso Salmon with Soba Noodles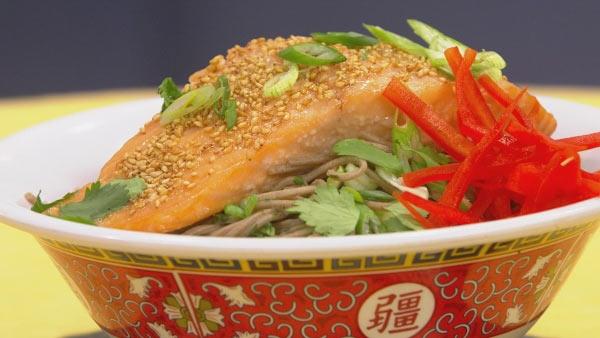 Servings: 4
Difficulty: Moderate
Time:
Provided by: Chris Koetke
3/4 cup mirin
1/4 cup sake
5 Tablespoons white miso
1 Tablespoon soy sauce
1/8 teaspoon cayenne
4 6 oz portions of salmon
Sesame oil
Roasted sesame seeds
Soba and bok choy mixture (below)
Directions
1. Whisk together mirin, sake, miso, soy sauce, and cayenne until the miso is dissolved.
2. Place salmon in marinade and place in refrigerator for 12-24 hours.
3. To cook, remove salmon from marinade and place on an oven-proof baking sheet. Brush tops with sesame oil and a sprinkle of sesame seeds.
4. Bake in a 375° F oven for 15 minutes or until cooked through but still moist.
5. Serve the soba and bok choy mixture in a bowl and top with cooked salmon.
Soba and Bok Choy Mixture
12 oz. soba (dried Japanese buckwheat noodles)
6 baby bok choy, chopped so that the leaf portion is cut into 1-inch slices and the bulb
portion into 1/2-inch slices
3 Tablespoons mirin
2 1/2 Tablespoons light soy sauce
1 Tablespoon rice wine vinegar
2 cups chicken broth
1/2 teaspoon salt
1/4 teaspoon ground black pepper
1/4 cup minced cilantro
4 green onions, thinly sliced
1. Cook soba noodles in a large pot of boiling salted water (at least 1 gallon of water!) for 5 minutes.
2. Add bok choy and cook for 2 more minutes.
3. Drain and rinse very well with hot water.
4. In the meantime, return pot to heat. Add mirin, soy sauce, rice wine vinegar, broth, salt, and pepper. Bring to a boil.
5. Add green onions, cilantro, and soba and bok choy mixture. Heat for a couple of minutes and serve.
*In the morning, mix up the marinade and place the salmon in it. When you get home from work, you need to bake the salmon and boil the noodles and bok choy for a top notch dinner packed with delicious Asian flavors.