Recipes
Seared Sea Scallops with Tomato Avocado Salad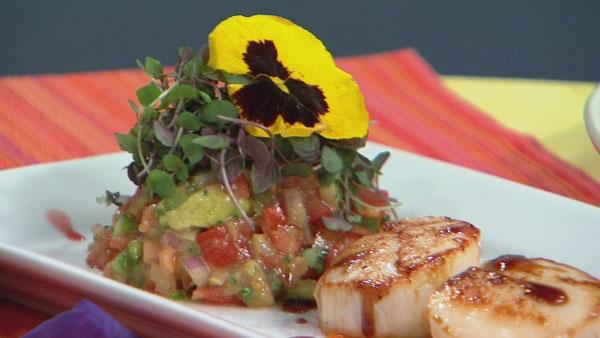 12 U-10 Sea Scallops, side mussel removed
2 oz. Red Bell Pepper, medium dice
2 oz. Green Bell Pepper, medium dice
1 oz. Red Onion, small dice
4 oz. Organic Vine Ripe Tomato, seeded, medium dice
4 oz. Avocado, peeled, pitted &amp
medium dice
1 oz. Lemon Juice
1T Fresh Cilantro, chopped
1T Fresh Chive, chopped
1/2C Organic Baby Arugula, washed &amp
spun
1 oz. Extra Virgin Olive Oil
2 oz. Pomegranate/Balsamic Syrup
2 oz. Balsamic Vinaigrette
4 oz. Roasted Red Pepper Puree
1/4 tsp Sea Salt
1/4 tsp Cracked Black Pepper
Directions
1. Pat Sea Scallops dry and season using the salt and pepper.
2. Add 1/2 oz Olive Oil to sauté pan on medium heat.
3. Place Sea Scallops in pan and allow to cook 2 minutes on each side or firm to the touch.
4. In medium mixing bowl combine peppers, onion, tomato, avocado, chive and cilantro.
5. Add 1/2 oz of Olive Oil and the Lemon Juice to the mixture and toss lightly.
6. Combine Pomegranate/Balsamic Syrup with Balsamic Vinaigrette mixing well.
7. Spoon half of the tomato/avocado mixture on each plate.
8. Place 1/4 C of the Baby Arugula on top of each vegetable mound. Drizzle with Pomegranate Vinaigrette.
9. Smear roasted pepper puree on plate and set 3 of the cooked scallops on top of puree. 10. Serve.
Nutritional Analysis: Cals: 229, T.Fat: 18gm, S.Fat: 3gm, Chol: 10mg, Sod.: 177mg, CHO: 13gm, Fib: 2gm, Pro: 7gm