Recipes
Rugelach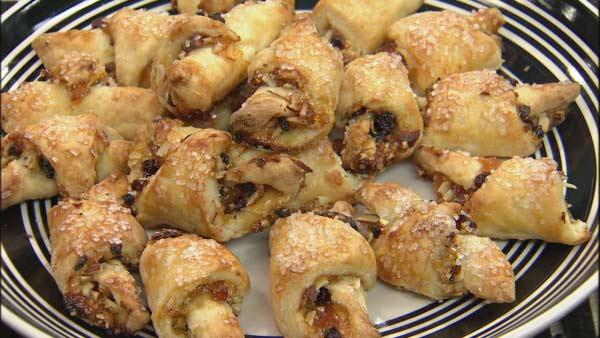 Servings: 24 cookies
Difficulty: Moderate
Time:
1 cup flour
1/2 teaspoon salt
1 stick cold butter, cut into small pieces
4 oz. cold cream cheese, cut into small pieces
2 Tablespoons cold buttermilk
1/4 cup chopped dried apricots
1/4 cup chopped dried currants
1/4 cup sugar
1 pinch ground nutmeg
3 Tablespoons apricot jam
1 large egg white, lightly whisked
1/3 cup sliced almonds, coarsely chopped
2 Tablespoons sanding sugar (optional)
Directions
1. In a large bowl, combine flour and salt. Add butter and cream cheese and mix until the mixture is crumbly. 2. Add buttermilk and mix just until the dough is homogenous. 3. Cover tightly with plastic wrap and place in the refrigerator for several hours to allow the dough to firm up. 4. Divide the dough into three balls. Roll each one out into a circle that is about 1/8-inch thick. Cut each circle into 8 wedges (like you would cut a pizza). 5. Brush each piece of dough with apricot jam. Top with dried apricots, currants, and chopped almonds. Roll up each cookie tightly, starting at the wide end and rolling toward the tip of the dough. 6. Place the rolls on a greased baking sheet. Brush each rugelach with egg white and then sprinkle with sanding sugar. 7. Refrigerate the rugelach for 15-30 minutes to be sure that they are cold. 8. Bake in a 350°F oven for about 18-20 minutes, or until browned. Let cool and serve.