Recipes
Roasted Onion and Goat Cheese Soup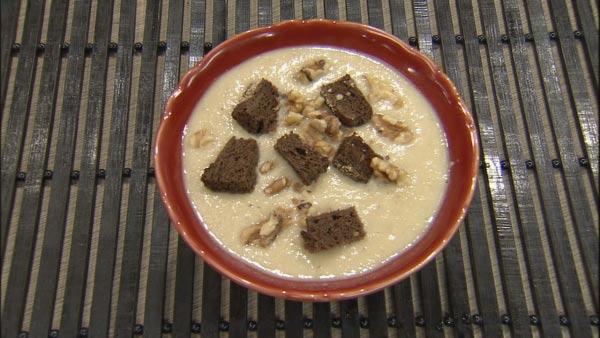 Servings: 16
Difficulty: Easy
Time:
Provided by: Chef Chris Koetke
8 large white onions, individually wrapped in aluminum foil
3 Tablespoons butter
1 1/2 cups peeled and diced parsnips
1 cup diced celery, white parts only
2 48-oz. containers of chicken broth
3 cups diced russet potatoes
1 teaspoon dried thyme leaf
1 teaspoon dried sage
2 bay leaves
10 oz. fresh goat cheese
1 teaspoon salt
1 teaspoon ground black pepper
1 1/2 cups roasted walnut halves*
3 cups pumpernickel croutons**
Directions
*To roast the walnut halves, place them on a sheet tray and bake in a 400 degrees F oven for 10 minutes. Remove from oven and once they are cool, chop them coarsely.
**To make the pumpernickel croutons, spread 3 cups of diced pumpernickel bread on a baking sheet. Place in a 350 degrees F oven for 10 minutes.
1. Place the onions on a baking sheet and bake in a 350 degrees F oven for about 2 hours, or until they are very soft. Remove from oven and let cool. This can be done 1 to 2 days ahead of time and kept refrigerated until needed.
2. Remove the onions from the aluminum foil. Remove the peels and coarsely chop the insides of the onions. Reserve.
3. In a large pot over moderate heat, saute parsnips and celery in butter. When they have softened (but preferably not browned), add reserved onions, chicken broth, potatoes, thyme, sage, and bay leaves. Bring to a boil, simmer, and cook for 30 minutes.
4. Remove the bay leaves from the soup. In batches, puree the soup and goat cheese in a blender. Be sure to not fill it more than half way up and hold the lid on using a sturdy kitchen towel.
5. Bring to a boil. Season the soup with salt and pepper, and serve with pumpernickel croutons and chopped walnuts sprinkled over each bowl.