Recipes
Roast Turkey Breast with Apple Cider Gravy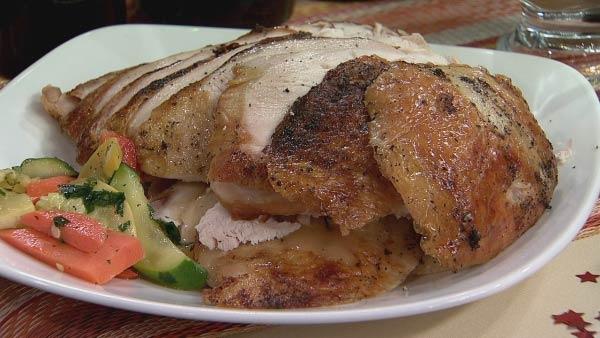 1 turkey breast (about 7 lbs.)
1/2 teaspoon salt (do not add any salt if there is already salt added to the turkey -- although these brined turkeys are not recommended due to their higher salt content.)
1 t teaspoon black pepper
1 t teaspoon rubbed sage
4 c. apple cider
1/4 cup real maple syrup
1 bay leaf
1 medium onion, diced
2 Tablespoons melted butter
1/2 cup flour mixed with 3/4 cup cold water
2 Tablespoon strong Dijon mustard
Directions
1. Season outside of turkey breast with salt, pepper, and sage. Place in small roasting pan in a rack.
2. Pour apple cider and maple syrup along with bay leaf and onion around the turkey. Cover the roasting pan.
3. Place in a 350F oven basting with juices every 20 minutes. Start testing after 1 1/2 hours using an instant read thermometer.
4. Once the turkey has reached an internal temperature of 130F, remove lid and increase the oven temperature to 400F. Baste with butter every 10 minutes. The turkey is finished when it has an internal temperature of 165F at its center.
5. Remove turkey breast to a warm platter, cover with aluminum foil and keep in warm place.
6. Pour the liquid from the roasting pan into a small saucepan. Skim off the fat from the top. Bring the liquid to a boil. Whisk in flour/water mixture. Bring back to a boil. Taste for seasoning. Serve with turkey slices.
Nutritional Analysis: Cals: 452, TFat: 18gm, Sfat: 6gm, Chol: 141mg, Sod: 439mg, Carb: 26gm, Fib: 1gm, Pro: 46gm