Recipes
Red Pepper and Garbanzo Tagine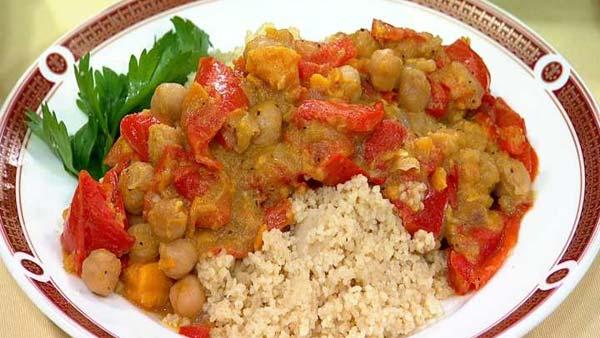 Servings: 4 entree servings with couscous
Provided by: Chris Koetke
2 Tablespoons vegetable or olive oil
1 large onion, diced
2 garlic cloves, chopped
2 cinnamon sticks
1 Tablespoon ground cumin
3 large red peppers, cut into a large dice (about 6 cups)
1 sweet potato, peeled and diced (about 2 cups)
1 15 oz. can garbanzo beans, rinsed
1 teaspoon orange zest
2 pinches chile flake
1/2 cup water
1/2 teaspoon salt
1/2 teaspoon ground black pepper
1/4 cup cilantro leaves
10 oz. whole wheat couscous
2 cups boiling water or boiling low sodium vegetable broth
1/2 teaspoon salt
2 Tablespoons high quality extra virgin olive oil
4 teaspoons lemon juice
Directions
1. Heat a large pot over medium heat. When hot, add oil, onion, garlic, and cinnamon and cook for 5 minutes, stirring frequently.
2. Add cumin, red peppers, sweet potato, garbanzo beans, orange zest, chile flake, water, salt, and black pepper. Bring to a boil, reduce heat to a simmer, and cover. Cook slowly for 35-40 minutes or until the vegetables are soft. Stir in cilantro and serve with couscous.
Nutritional Facts: Cals: 232, TFat: 8gm, SFat: 1gm, Chol: 0mg, Sod: 290mg, Carb: 41gm, Fib: 11gm, Pro: 4 gm
Couscous:
1. Pour boiling water on the couscous and salt. Stir, cover and let steep until the couscous is soft.
2. Add olive oil and lemon juice
Nutritional Facts: Cals: 328, TFat: 8gm, SFat: 1gm, Chol: 0mg, Sod: 178mg, Carb: 58gm, Fib: 4gm, Pro: 8gm