Recipes
Red Pepper, Tomato and Meatball Sauce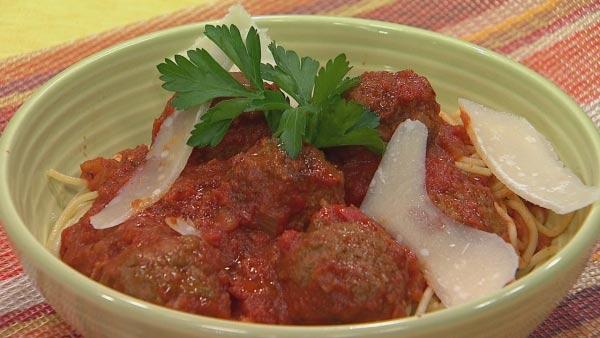 Servings: 4-5
Difficulty: Easy
Time:
Provided by: Chris Koetke
1 lb. lean ground beef
1 egg
3/4 cup breadcrumbs
1/2 cup freshly grated Parmesan (about 1 oz.)
5 large garlic clove, minced
1/2 teaspoon salt
1/2 teaspoon ground black pepper
1/2 teaspoon dried oregano leaf
1 teaspoon onion powder
1/4 cup cold water or broth
3 Tablespoons olive oil
1 cup finely diced onion
28 oz. can crushed tomato
15 oz. can tomato sauce
3/4 cup water or broth
1/4 teaspoon dried thyme leaf
1/2 teaspoon dried oregano leaf
1/4 teaspoon ground black pepper
1/2 cup roasted red pepper, finely chopped
Directions
1. Combine the beef, egg, breadcrumbs, parmesan cheese, 1 garlic clove, salt, 1/2 teaspoon pepper, 1/2 teaspoon oregano, onion powder, broth. Knead until it becomes elastic. Be sure to keep the meat as cold as possible. Roll into 20 firm balls. 2. Add onions and sauté until translucent and cooked through (4-5 minutes). If necessary, more olive oil may be needed.
3. Add 4 garlic cloves and cook for 1 more minute.
4. Add remaining ingredients, including the browned meatballs.
5. Bring to a boil and simmer for 20 minutes or until the meatballs are cooked through. Taste for seasoning and serve with hot spaghetti.