Recipes
Pumpkin Cheesecake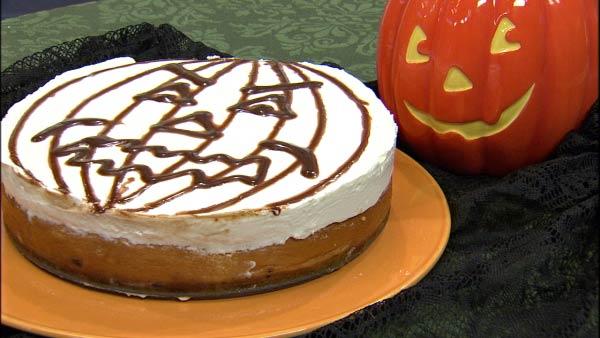 Servings: 10
Difficulty: Moderate
Time:
Provided by: Chris Koetke
3/4 cup graham cracker crumbs
3/4 cup gingersnap crumbs
6 tablespoons unsalted butter, melted
1/3 cup sugar
1/3 cup pecan chips
1/2 teaspoon cinnamon
Pinch of salt
3 8 oz. packages cream cheese, softened
3 tablespoons all purpose flour
1-3/4 cups sugar
5 large eggs plus 2 egg yolks
1 tablespoon vanilla
1-1/4 teaspoons pumpkin pie spice
1 15 oz. can solid-pack pumpkin
2 cups sour cream
3 tablespoons sugar
2 tablespoons bourbon
Chocolate icing (purchased at the store in a decorating tube)
Directions
1. Preheat oven to 300 degrees Fahrenheit.
2. In a medium bowl, mix together the dry crust ingredients. Add the melted butter and mix to moisten crumbs. Press into the bottom of a 10" springform pan. Place on a cookie sheet with raised sides.
3. Beat together the cream cheese, sugar and flour with an electric mixer until smooth. Add the whole eggs, 1 at a time. Scrape down the sides of the bowl between additions to make sure that the cream cheese is completely incorporated. Stir in vanilla.
4. Add the egg yolks, pumpkin pie spice and pumpkin into the filling in the mixing bowl and beat until smooth.
5. Pour the pumpkin mixture into the prepared springform pan.
6. Bake for 1 ½ hours or until mostly firm. The center will still be slightly wobbly.
7. Meanwhile, mix the sour cream topping by combining all the ingredients.
8. Once the cheesecake is baked, remove from oven. Reset oven to 350 degrees Fahrenheit. Pour sour cream mixture over the top of the baked cheesecake and return to the oven for 5 minutes.
9. Remove from the oven and place on a rack to cool. Run a knife around the top of the cake to loosen and cool completely in the pan. Chill, loosely covered for at least 6 hours.
10. When ready to serve, decorate the top of the cheesecake with chocolate icing to look like a decorated pumpkin.