Recipes
Pumpkin Cake with Browned Butter Icing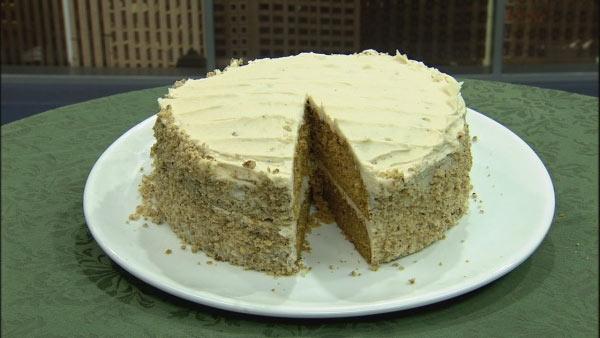 Servings: 12
Difficulty: Easy
Time:
Provided by: Chef Chris Koetke
3 cups cake flour
2 cups sugar
2 teaspoons baking powder
2 teaspoons baking soda
3/4 teaspoon salt
1 1/2 teaspoons ground cinnamon
1 teaspoon ground ginger
1 teaspoon ground nutmeg
3/4 teaspoon ground cloves
1 1/2 cups vegetable oil
4 large eggs
2 cups canned pumpkin (not pumpkin pie filling)
1 teaspoon vanilla extract
1 recipe brown butter icing (below)
8 oz finely chopped walnuts
Directions
1. Line the bottom of 2 9-inch cake pans with parchment paper. Preheat the oven to 350 degrees F.
2. In a bowl, combine flour, sugar, baking powder, baking soda, salt, cinnamon, ginger, nutmeg, and cloves.
3. Add vegetable oil, eggs, pumpkin, and vanilla to the dry ingredients. Mix just until they are well incorporated, but do not over mix.
4. Pour batter into the 2 9-inch pans. Bake in the oven for 45-50 minutes or until a cake tester comes out clean when inserted into the center of the pans.
5. Remove from oven, let cool, and unmold onto a cooling rack.
6. Ice the cake by spreading a small amount of icing between the layers. Then use the rest of the icing to ice the cake completely.
7. Press the walnuts onto the side of the cake.
Browned Butter Icing
This icing goes great with spiced pumpkin and sweet potato cakes, but is also great with chocolate cake!
Difficulty: Moderate
Prep time: 20 minutes (plus 1-2 hours for the browned butter to cool and solidify)
Cook time: 5 minutes
Makes: 3 1/2 cups
2 sticks unsalted butter
1/4 cup real maple syrup
1/2 cup heavy cream
1/2 teaspoon vanilla extract
5 cups powdered sugar
1. Place butter in a small saucepan and place on moderate heat. Continue cooking until it browns (you will see brown bits on the bottom of the pot). Immediately pour the butter into another container before it burns. Allow the butter to cool until it resembles the texture of room temperature butter.
2. Place the browned butter in the mixer with the whisk attachment. Add maple syrup, cream, and vanilla. Mix to combine.
3. Add powdered sugar a cup at a time while mixing. Stop mixing when the icing is light and fluffy. (If the icing is a bit too stiff, you can always add a small amount of cream.)