Recipes
Pumpkin Bread Pudding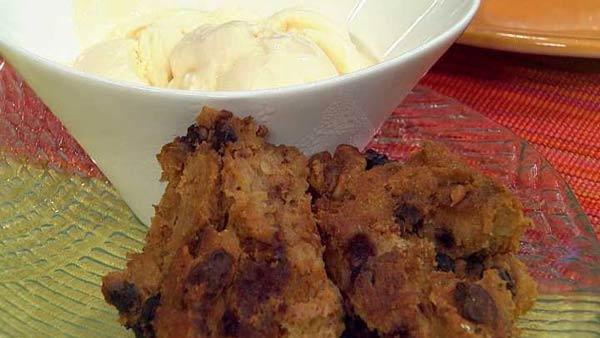 Servings: 15
Provided by: Chris Koetke
2 1/2 cups skim milk
15 oz. pure pumpkin pulp, canned
1 cup brown sugar
3/4 cup egg substitute
1/2 teaspoon ground ginger
1 1/2 teaspoon ground cinnamon
2 teaspoons vanilla extract
1/8 teaspoon salt
10 cups diced whole wheat bread (about 15 slices of sandwich bread)
1/2 cup walnut pieces
1/4 cup dried blueberries
1/4 cup raisins
Directions
1. In a large bowl, stir together milk, pumpkin, brown sugar, egg substitute, ginger, cinnamon, vanilla, and salt until smooth.
2. Fold in bread, walnuts, blueberries, and raisins. Let sit for 15 minutes.
3. Pour into a 9 x 13 baking dish. Bake in a 350 degrees oven until the bread pudding is firm (about 55 minutes).
4. Serve warm.
*This recipe makes enough for a party! If you wish to make less, simply cut the recipe in half and bake in an 8 x 8 baking dish.
Nutritional Analysis: Cal: 180, T.Fat: 4g, Sat. fat: 0g, Chol: 1mg, Sod: 209mg, T. Carb: 32g, T. Fiber: 3g, Pro: 7g