Recipes
Profiteroles with Grand Marnier Whipped Cream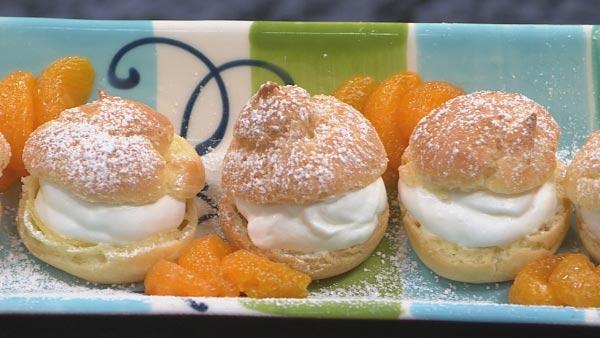 Servings: 30-32 profiteroles
Difficulty: Moderate
Time:
Provided by: Chris Koetke
1 c. water
5 T. butter, cut into small pieces
1 c. flour, all-purpose
3 pinches salt
1 T. sugar
4 eggs
1 egg, separated
Grand Marnier pastry cream or whipped cream (recipes above)
30-32 canned Mandarin orange segments
Directions
1. Bring water and butter to a boil in a medium saucepan and boil just until the butter has melted.
2. Add flour, salt, and sugar. Stirring constantly, cook over a low flame for 4-5 minutes, until the dough is starts to dry and a film has developed over the bottom of the pot.
3. Remove from heat and place dough in a large bowl. Allow to cool for 4-5 minutes.
4. Add one egg at a time to the dough. Be sure to fully incorporate each egg before adding the next egg. Incorporate a total of 4 eggs and 1 egg white into the dough.
5. Using a pastry bag, pipe small dollops (about 1 inch balls) onto a baking sheet lined with parchment or a silicon sheet. If you do not have a pastry bag, you can also use a spoon to scoop small dollops of the dough onto the baking sheet. Be sure to leave several inches between each profiterole as they will expand during cooking. This recipe should make 30-32 profiteroles.
6. Mix together remaining egg yolk with 2 Tablespoons of water. Brush each with this mixture.
7. Bake in a 350degree oven for about 30 minutes, or until the profiteroles are nicely browned and dry.
8. Turn off the oven, open the door slightly, and allow the profiteroles to further dry for 10-15 minutes.
9. Remove from oven and allow to cool completely.
10. Cut the tops off the profiteroles. Do not discard. Scoop out any soggy dough inside the profiteroles.
Grand Marnier Whipped Cream
Serving: Enough for 30 profiteroles
1 c. heavy cream
2 Tablespoons powdered sugar
3 Tablespoons Grand Marnier
1. Whip cream until it starts to firm up and form soft peaks.
2. Add powdered sugar and Grand Marnier. Continue whipping until the cream becomes firm. Keep refrigerated until needed.