Recipes
Pork Vindaloo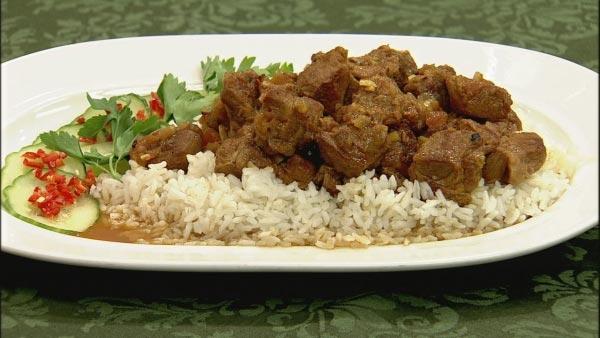 Servings: 4
Difficulty: Moderate
Time:
Provided by: Chef Chris Koetke
2 pounds pork shoulder, cut into 1-inch dice
3/4 teaspoon ground cumin
2 teaspoons cayenne (this will make it very hot. If you want less, you can cut this amount in half)
8 garlic cloves, minced
1/2 teaspoon ground cinnamon
1/2 teaspoon ground black pepper
1/4 teaspoon ground turmeric
1 teaspoon ground coriander
1 teaspoon sugar
1 teaspoon salt
1/2 cup cider vinegar
2 Tablespoons vegetable oil
2 cups diced onions
1 Tablespoon minced fresh ginger
2 tomatoes, diced
2 cups water
Directions
1. In a bowl, combine cumin, cayenne, garlic, cinnamon, black pepper, turmeric, coriander, sugar, salt, and vinegar. Stir until it forms a paste.
2. Add diced pork to the spice paste and stir well to coat. Place in the refrigerator and let marinate for 2-12 hours.
3. When the pork is marinated, heat a large sauté pan over high heat until it is hot. Add oil and then the pork. (Save any remaining spice paste for later.) Brown on all sides and remove from the pan. It may be necessary to brown in batches as overloading the pan will prevent the meat from browning.
4. In the same pan, add the onions and garlic. It may be necessary to add more oil. Sauté until the onions are soft.
5. Add tomatoes and cook for another several minutes.
6. Add water, browned pork and remaining spice paste to the sauté pan. Bring to a boil and reduce to a simmer. Cook for 1 1-1/4 hours or until the meat is tender. (If the meat dries out when cooking, add more water as needed as there should be a thick sauce covering the meat).
7. Taste for seasoning and serve with white rice.
Note: Serve with plenty of white rice.