Recipes
Pomegranate Chicken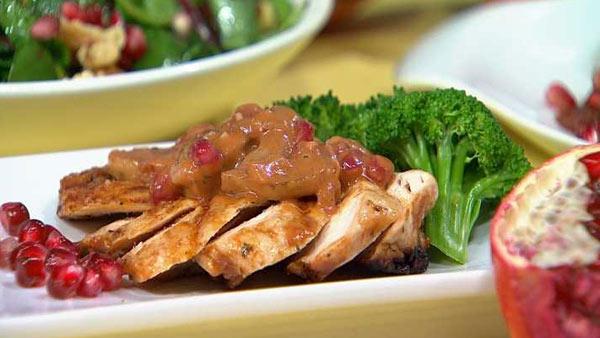 Servings: 2
Provided by: Chris Koetke
Chicken Breast - 10 oz. seasoned with 1/8 teaspoon each of salt and pepper
Pomegranate Wine - 2 oz.
Mushrooms - 4 sliced
Garlic - 1 tsp. minced
Olive Oil 2 tablespoons.
Pomegranate Seeds - 1 Tbsp.
Alfredo Sauce - 1 tsp.
1/8 teaspoon salt
Choice of Vegetable - 8 oz.
Directions
1. Put olive oil in frying pan. Saute mushrooms and garlic. Cook until soft.
2. Add 1 teaspoon of Alfredo Sauce to tie the ingredients together. Cook until the sauce is hot. Add pomegranate wine and salt.
3. Grill Chicken Breast separately and put on a plate. Pour sauté mixture atop the chicken breast. Sprinkle with pomegranate seeds. Finish plate by adding 8oz. of your favorite steamed vegetable. Serve.
Nutritional analysis: Cals: 279, T.Fat: 19gm, S.Fat: 3 gm, Chol: 54mg, Sod: 327 mg, T.Carb: 3gm, Fib: Tr, Pro: 19gm