Recipes
Poached Farm Eggs with Crunchy Small Potatoes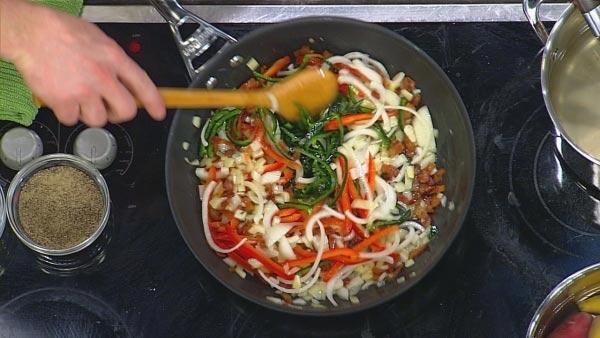 Servings: 6
Difficulty: Moderate
Time:
Provided by: Chris Koetke
8 oz. sliced bacon, cut into 1/4 inch slices (buy the best bacon you can find for this)
2 cups diced onions
2 poblano chilies, halved, seeds removed, and sliced thinly*
2 red peppers, halved, seeds removed, and sliced thinly
1/4 teaspoon dried marjoram
1 teaspoon salt
1 teaspoon ground black pepper
1 1/2 pounds small fingerling potatoes, or other varieties of small potatoes
3 Tablespoons extra virgin olive oil
Additional salt and pepper
12 eggs
1 Tablespoon red or white wine vinegar
Directions
1. In a large sauté pan, sauté the bacon over moderate heat until it is crispy. Remove some of the fat and reserve for later, if needed.
2. Add onions, poblano chilies, red peppers, marjoram, salt, and black pepper to the sauté pan. Continue sautéing over high heat until the peppers are just softened (about 6 minutes). Add more bacon fat to the pan if necessary. When cooked, remove from pan and keep warm or cool, refrigerate, and reheat when needed.
3. Place the potatoes in a large pot and cover with salted water. Bring to a boil and cook until the potatoes are tender. The easiest way to judge doneness is to insert a paring knife into a potato. It should insert effortlessly into the potato.
4. Drain potatoes. Place the hot potatoes on a baking sheet lined with parchment paper. Gently "smash" each potato just until it the skin pops and it flattens somewhat. Brush with olive oil and season with additional salt and pepper.
5. Place baking sheet in a 450° F oven for 30-40 minutes or until the potatoes are crunchy on the outside and soft in the middle.
6. Heat a medium saucepan with about 4 inches of water and the red or white wine vinegar until the water is barely simmering. Crack eggs into individual bowls. Gently slide each egg into the water so as to keep it as together as possible. (Once the eggs firm up, you can even try to envelope the yolk with the white by carefully wrapping the white around the yolk with a slotted spoon. This step is optional though.)
7. Cook the eggs for 3-5 minutes or until the whites are solid and the yolk is still soft.
8. While the eggs are cooking, place crunchy potatoes on the plate, top with sautéed pepper mixture, and then 2 eggs per person. Season with additional salt and pepper and serve.
*The heat level in poblano chilies can vary considerably. If you are hesitant about spicy food, you may want to try 1 first, then add another if the heat is not too much.