Recipes
Parmesan and Asiago Stuffed Pork Chops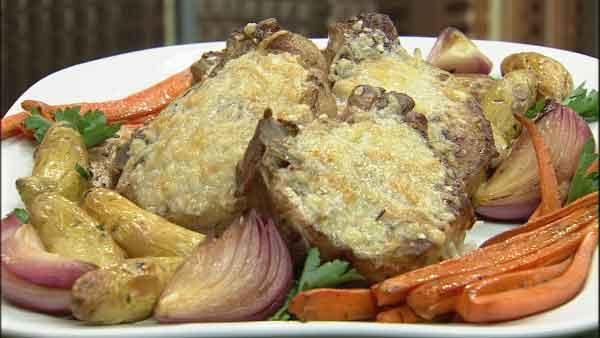 Servings: 4
Difficulty: Moderate
Time:
Provided by: Chris Koetke
4 bone-in pork chops, cut 1 1/2 inches thick (about 1 lb each)
1/4 teaspoon ground black pepper
3 oz grated high-quality parmesan cheese
3 oz grated asiago cheese
1/4 cup minced parsley
1/4 cup minced fresh basil
Oil to sauté
4 teaspoons dijon mustard
Directions
1. In a bowl, combine half of both cheeses, parsley and basil.
2. Cut a pocket in each pork chop by inserting the knife into the side of the pork chop opposite the bone. Poke the knife in and then "pivot" the knife so as to make a large pocket inside the meat with the smallest opening possible.
3. Stuff each pork chop with the cheese-parsley-basil mixture.
4. Season the pork chops with black pepper.
5. In an oven-proof hot sauté pan with oil, sauté the pork chops until they are well browned on both sides. When they are browned, place the sauté pan in a 350° F oven. Bake for about 10 minutes or until the internal temperature of the pork chops is 155° F.
6. Remove the pan from the oven and brush the top of the pork chops with mustard and then sprinkle with the remaining cheese. Return the pan to the oven and bake for several more minutes or until the cheese is well melted.