Recipes
Paella Valenciana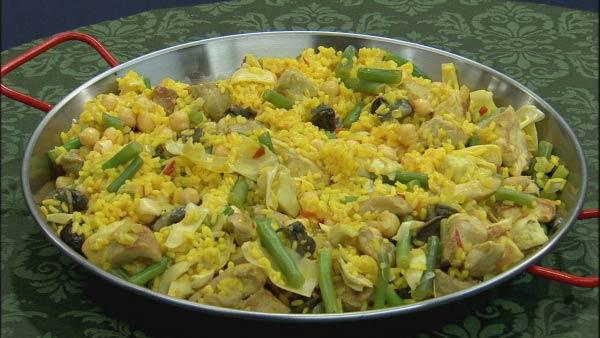 Servings: 6
Difficulty: Moderate
Time:
Provided by: Chris Koetke
1-1/4 lbs. boneless chicken pieces (light or dark), cut into 1-1/2 - 2 inch pieces
1-1/4 lbs. boneless pork loin (not tenderloin), cut into 1-1/2 - 2 inch pieces
1-1/2 teaspoons salt
3/4 teaspoon ground black pepper
1/4 cup extra virgin olive oil
1 cup diced onion
2 cloves garlic, roughly chopped
1 cup diced fresh tomato
8 oz. green beans, cut into 2-inch segments
2-1/2 cups medium grain rice
5-1/2 cups water
1 teaspoon paprika
2 large pinches high quality saffron
1 14 oz. can small artichoke hearts, drained and rinsed
1 14 oz. can garbanzo beans, drained and rinsed
12-24 snails (depending on how much you like snails)
Directions
1. Season chicken and pork with 1 teaspoon salt and ½ teaspoon black pepper.
2. In a large paella pan (about 15-inches) or a large sauté pan, sauté chicken and pork in 3 Tablespoons olive oil. Cook until all sides are nicely browned. Remove from the pan and reserve.
3. Add remaining 1 Tablespoon olive oil to the pan. Add onions and garlic and cook until lightly browned.
4. Add tomatoes and green beans and continue cooking for another 5 minutes.
5. Add remaining ingredients and remaining ½ teaspoon salt and ¼ teaspoon pepper.
6. Bring to a boil, and reduce to a simmer. Cook for 15 minutes or until the rice is al dente. Stir periodically. When the rice is cooked, turn heat to high for a few minutes and then remove from the stove. Cover with aluminum foil and let sit for 5 minutes. Serve.