Recipes
Oysters Rockefeller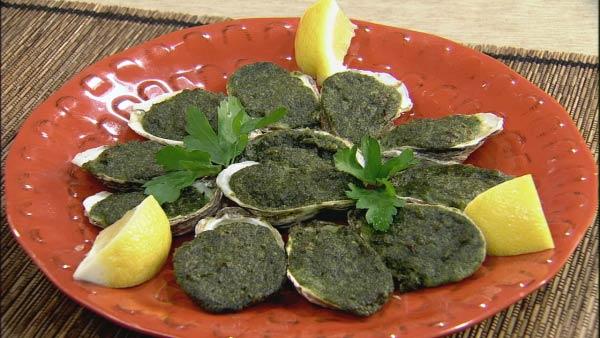 Servings: 4
Difficulty: Moderate
Time:
Provided by: Chef Chris Koetke
1 stick unsalted butter
1/3 cup minced shallot
1 large clove garlic, minced
1/2 cup minced fennel bulb
1 bunch watercress, roughly chopped (about 2 cups)
3 oz. baby spinach
3/4 cup roughly chopped parsley leaves
3/4 teaspoon salt
Several pinches ground black pepper
Several shots of Tabasco
6 Tablespoons breadcrumbs
3 Tablespoons herbsaint or pernod (anise liquor)
24 oysters, opened with all their juice
Directions
1. In a large sauté pan over moderate heat, melt the butter. Add shallot, garlic, and fennel. Cook for about 5 minutes or until the ingredients are softened.
2. Add watercress, spinach, and parsley. Cook for several minutes until softened. Remove from sauté pan and put contents into a food processor.
3. Add salt, black pepper, Tabasco, breadcrumbs, and herbsaint or pernod. Puree until the mixture is well pureed. Let cool.
4. Line a baking sheet with a layer of rock salt. Arrange the oysters on the half shell so that they are level. Top each with a coating of the green puree.
5. Place the baking sheet in a 450 degrees F oven for 10-12 minutes or until the green topping starts to brown and the shells are bubbly. Serve immediately with crunchy bread.