Recipes
Oyster Soup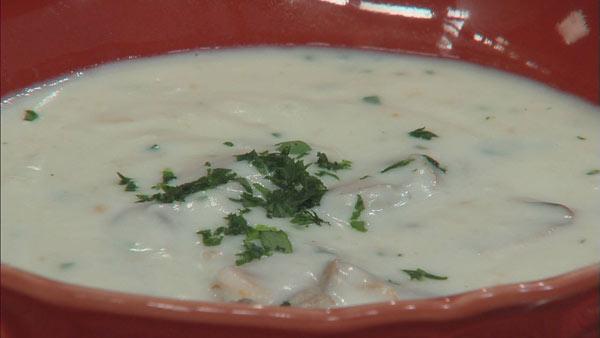 Servings: 4
Provided by: Chris Koetke
3 Tablespoons unsalted butter
1 Tablespoons finely chopped celery
2 Tablespoons finely chopped onion
2 1/2 Tablespoons flour
2 cups whole milk
20 shucked oysters, with their juice
1/2 teaspoon salt
1 1/2 teaspoons chopped fresh parsley leaves, chervil, or combination of both
Several drops fresh lemon juice
2 pinches ground white pepper
Directions
1. In a heavy medium saucepan, melt the butter over moderate heat. Add the celery and onion. Sauté until softened but not browned, about 5 minutes.
2. Stir in the flour and cook, stirring constantly, until the paste cooks for 2 minutes. Be careful not to let it brown.
3. Over medium high heat add the milk and evaporated milk, whisking vigorously until the mixture is smooth. Bring to a boil while stirring with the whisk. Lower the heat, and cook, stirring for 3 to 4 minutes more.
4. On low heat stir in oysters and salt. Maintaining a bare simmer, cook the oysters for only 2-3 minutes. (The oysters only need to be heated through. Overcooking the oysters will cause them to toughen.)
5. Remove from heat, stir in parsley and/or chervil, lemon juice and white pepper and serve.
Nutritional Analysis:
Cals: 200, T.Fat: 14gm, S.Fat: 8gm, Chol: 62mg, Sod: 418mg, T.Carb: 12gm, Fiber: TR, Pro: 8gm