Recipes
Oyster Beignets and Caviar Smoked Salmon Pancakes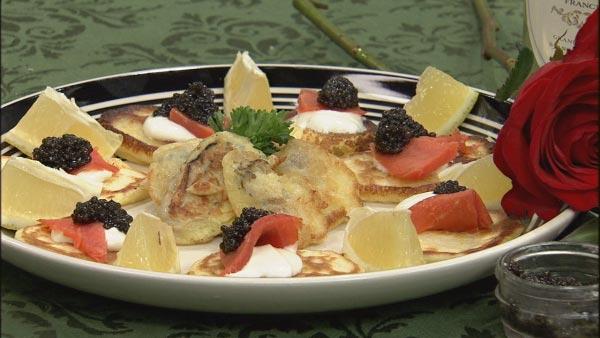 Servings: 2
Difficulty: Moderate
Time:
Provided by: Chris Koetke
2/3 cup milk
Pinch sugar
1 package dry yeast
2 eggs
1 Tablespoon melted butter
1/4 teaspoon salt
1 cup flour
Several grinds black pepper
12 large shucked oysters (it is important to have large meaty oysters for this)
1 oz. caviar
2 oz. thinly sliced cold smoked salmon (not the flaky, chunked smoked salmon)
Vegetable oil for frying
Lemon wedges
Sour cream or creme fraiche
Directions
1. Warm milk to 110-115° F. Add yeast and sugar. Stir and let sit until frothy (about 5-10 minutes).
2. In a bowl, combine milk/yeast mixture, eggs, butter, salt, flour, and black pepper. Stir until combined. Let sit until it becomes bubbly (about 30 minutes)
3. To make oyster beignets, heat sauté pan over high heat. Add oil. Then, dip each oyster in the batter so that it is coated and place in hot sauté pan. (There should be a small amount of batter that will surround each oyster in the sauté pan like a very small pancake.) One they are browned on one side, turn and lightly brown the other side. Remove from pan as soon as they are browned so as not to overcook the oyster.
4. To make the pancakes, sauté 2-3 inch diameter pancakes in the hot sauté pan with oil. Brown on both sides and remove from the pan. Top each pancake with crème fraîche or sour cream and then a small amount of caviar or smoked salmon.
5. Serve the oysters and pancakes immediately with lemon wedges.