Recipes
Onion Sage Stuffed Pork Chops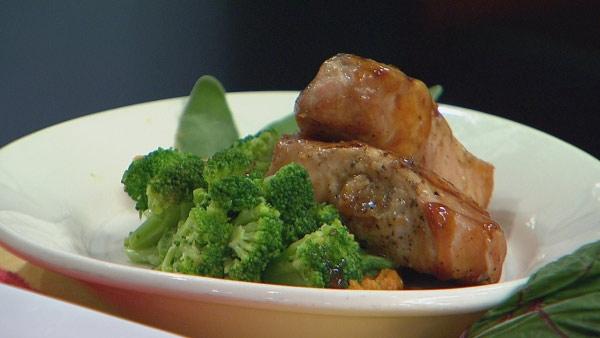 4 6 oz. boneless pork chops, trimmed of fat (or boneless, skinless chicken breasts)
2 cups finely diced or minced onion
2 tablespoons extra virgin olive oil
1 tablespoon minced fresh sage
1/4 teaspoon ground black pepper
1/4 teaspoon salt
1/2 cup+ water
1 tablespoon brown sugar
1 tablespoon cider vinegar
1 1/2 teaspoons whole grain mustard
1/4 teaspoon each of salt and black pepper for seasoning the pork chops
Favorite BBQ sauce
Directions
1. In a medium sauté pan over moderate-low heat, sauté onion in olive oil with sage, salt and pepper. After about 10 minutes, add water. This will help keep the onions moist so that they get soft and caramelized without burning. Feel free to add more water as needed to keep them moist.
2. When the onions are very soft (about another 10 minutes) remove from heat, stir in brown sugar, vinegar, and mustard and let cool. (This filling can ideally be made 1 day ahead of time and kept covered in the refrigerator.)
3. Cut a pocket in the side of each pork chop. Try to make the incision as small as possible, while at the same time cutting a large cavity inside of the chop. This is done by cutting a small opening on the side of the chop and pivoting the knife inside of the meat. Fill the pork chops with the cooled onion stuffing.
4. Season the exterior of the pork chops with additional salt and pepper. Grill pork chops over high heat to make grill marks. Once they have the marks, finish grilling the pork chops over low heat. When the pork chops have attained an internal temperature of 160-165 degrees F remove from heat. Allow to rest in a warm place for several minutes before serving. Serve with your favorite BBQ sauce. If the sauce is very thick, thin with water.
Nutritional Analysis Cals: 368, T.Fat: 24gm, S.Fat: 7gm, Chol: 84mg, Sod.: 407mg, CHO: 8gm, Fib: 1gm, Pro:27gm