Recipes
Nut and Fruit Dried Pie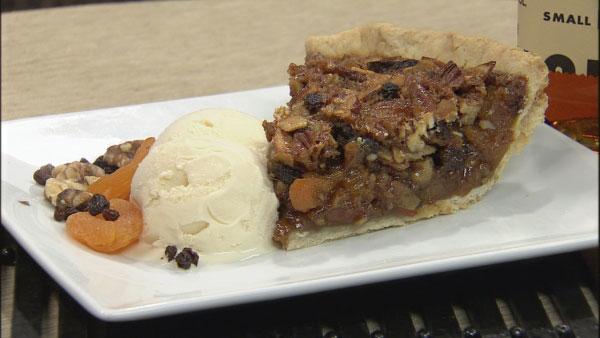 Servings: 8
Difficulty: Moderate
Time:
Provided by: Chef Chris Koetke
Butter pie dough (see below)
1 1/3 cups corn syrup
1/4 cup molasses
1 teaspoon vanilla extract
3 eggs
2 Tablespoons flour
1 oz (2 Tablespoons) melted butter
1/2 teaspoon ground cinnamon
8 oz assorted nuts, chopped
3/4 cup sliced dried apricots
1/2 cup raisins
Directions
1. Roll out the butter pie dough to cover the bottom of a 9-inch pie pan. Be sure to build up the edges slightly.
2. Fill the pie pan with nuts, dried apricots, and raisins.
3. In a bowl, combine corn syrup, molasses, vanilla, eggs, flour, melted butter, and cinnamon. Pour this mixture over the nuts and dried fruit.
4. Bake the pie in a 350 degrees F oven for 60 to 70 minutes, or until the center of the pie has solidified. If it starts to brown too much on top, cover the pie loosely with a piece of aluminum foil.
5. When done, remove from oven and let cool completely before serving. Serve with plenty of vanilla ice cream.
Butter Pie Crust
5 cups flour
1/4 teaspoon salt
2 sticks unsalted butter, cold and cut into a dice
3 egg yolks mixed with 1/2 cup cold water (more water may be needed depending on the flour)
1. In a bowl, combine flour and salt.
2. Add butter and work to incorporate the butter. It is sufficiently mixed when there are still very small pieces of butter in the flour.
3. Add yolk and water mixture. Mix just enough to incorporate and create homogenous dough. (If necessary, a small amount of additional cold water can be added -- amount of water depends on the flour.)