Recipes
Moroccan Merguez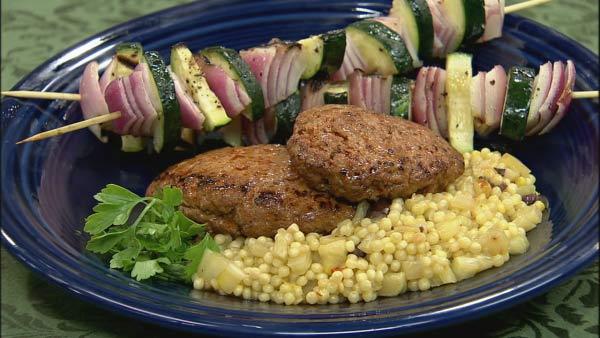 Servings: 2-1/2 cups
Difficulty: Easy
Time:
Provided by: Chef Chris Koetke
2-1/4 lbs. ground lamb, very cold
2 teaspoon salt
1/2 teaspoon ground anise
1-1/2 teaspoons ground cumin
1/2 teaspoon ground coriander
2 teaspoon ground sumac (optional, available from specialty spice shops)
2-3/4 Tablespoons Hungarian sweet paprika
1/2 teaspoon cayenne
1/2 clove garlic, finely minced
1/2 teaspoon dried oregano leaf
1/8 teaspoon cinnamon
1/2 teaspoon ground black pepper
1/2 cup pomegranate juice
Directions
1. In a bowl, combine all ingredients except the cold ground lamb.
2. Pour the liquid spice mixture into the cold ground meat. Mix vigorously until the meat becomes slightly elastic.
3. Form the merguez into patties.
4. Cover with plastic wrap and refrigerate for 12 to 24 hours.
5. Grill the patties over moderate heat or roast in a 325°F oven (until the internal temperature reads 165°F using an instant-read thermometer), 5 to 10 minutes.
Accompanying recipe: Fennel and Black Olive Couscous