Recipes
Mom's Split Pea and Dumpling Soup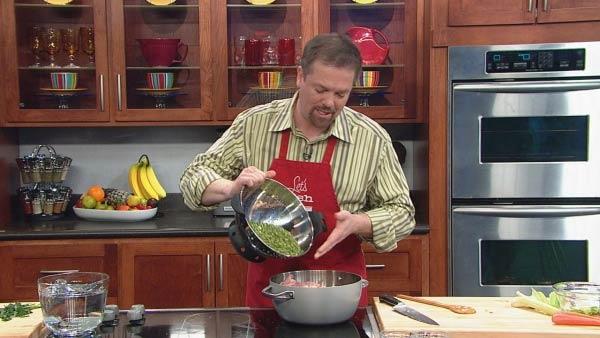 Servings: 8
Difficulty: Easy
Time:
Provided by: Chris Koetke
2 Tablespoons vegetable oil
2 cups diced onion
1 cup diced celery
1 cup diced carrot
1 2 1/2-3 pound ham bone or 2 1/2 pound smoked pork shoulder if the ham bone is unavailable
3 quarts water
1 1/2 pounds split peas, sorted for any stones and rinsed under cold water
2 bay leaves
1/2 teaspoon black pepper
Salt to taste
Parsley and black pepper dumplings (recipe below)
Directions
1. In a large soup pot with a diameter of 12-14 inches, sauté onions, celery, and carrot in oil until the vegetables are soft.
2. Add ham bone, water, split peas, bay leaves, and black pepper.
3. Bring to a boil, reduce heat to a simmer, cover and cook for about 1 ˝ hours or until the split peas are so soft that they are falling apart. Stir from time to time to be sure that the soup is not sticking to the bottom of the pan and scorching.
4. When the soup is cooked, remove from heat and remove the ham bone. When the bone is cool enough to handle, cut all the meat from it and return it to the soup.
5. Bring the soup back to a boil. Taste for seasoning.
6. Drop dumpling batter into the soup in about 1/4 cup amounts. Simmer the dumplings for 10 minutes. Then cover the pot and continue simmering for another 10 minutes.
7. Serve the soup piping hot with a dumpling or two per serving.
Parsley and Black Pepper Dumplings
2 1/4 cups all purpose flour
1/2 teaspoon salt
3 1/2 teaspoons baking powder
1 1/4 cups milk
4 1/2 Tablespoons vegetable oil
2 Tablespoons minced parsley
1/4 teaspoon ground black pepper (if you really like black pepper, feel free to increase to ˝ teaspoon)
1. Mix together flour, salt, and baking powder.
2. Add remaining ingredients and mix just until combined.
3. Poach in soup as described in the above recipe.
Everyone has their idea of what comfort food is. Usually, it stems from childhood memories and makes you just feel good. This is the soup that is comfort food for me. It is filling, warm, thick, satisfying, and is one of my mom's specialties. It is my trip back to my childhood.
Note: This recipe calls for a ham bone. My mother usually made this after a holiday ham, using the leftovers. If you are using a ham bone, be sure that it is from a smoked ham and that there is plenty of meat still attached to the bone.