Recipes
Mini Chipotle Burgers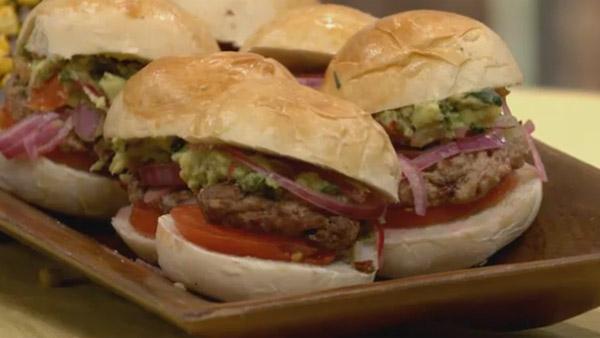 Servings: 12
Difficulty: Easy
1 pound ground beef
2 chipotle chilies from a can of chipotles in adobo sauce
2 Tablespoons adobo sauce from chipotles
1/2 teaspoon ground oregano
1/4 teaspoon ground cumin
2 minced green onions
1 teaspoon salt
12 Mini buns
Directions
1. Mix all ingredients except for toppers and buns. Mix well and form into 12 patties. Grill patties or saute in a non-stick sauté pan (using some pan spray) until cooked through (internal temperature of 165 degree F).
2. Serve on mini buns with toppers on the side.
Red Onion Salad
1 large red onion, very thinly sliced
1/4 cup lime juice (about 3 limes)
1/4 teaspoon salt
1. Mix all ingredients and let marinade for at least 30 minutes before serving.
Guacamole
2 ripened Mexican Haas avocados, halved, pitted, and peeled
1/2 red onion, finely diced
1/2 minced jalapeno with most seeds removed
Juice of 2 limes
1 tomato, seeds removed and diced
1/4 cup chopped cilantro leaves
1/4 teaspoon salt
1. Place avocado in a bowl and mash with a fork.
2. Combine with the remaining ingredients.
3. Verify taste. If you want it hotter, you can add a dash of hot sauce. If you like the guacamole more acidic, add more lime juice.