Recipes
Mexican-Influenced Roast Leg of Lamb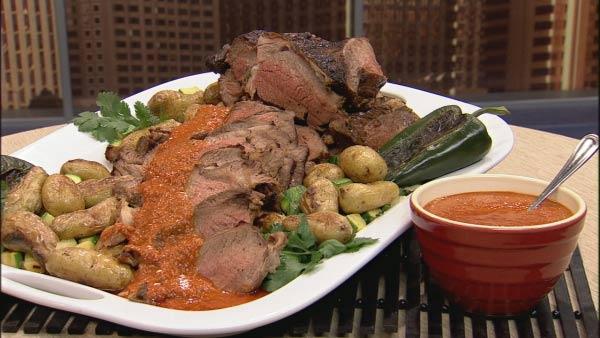 Servings: 10-12
Difficulty: Moderate
Time:
Provided by: 10-12
1 boneless leg of lamb (about 7 1/2 lbs)*
6 minced garlic cloves
2 teaspoons chile ancho powder
3/4 teaspoon ground cumin
1 teaspoon dried oregano
2 1/2 teaspoons salt
3 Tablespoons extra virgin olive oil
Directions
1. Open the leg so that it lies flat on the cutting board with the exterior of the leg touching the cutting board. Remove any excess pockets of fat. Make some small, ½-inch slits in the meat.
2. Meanwhile, mix together the ancho powder, cumin, oregano, and salt.
3. Rub the garlic into the lamb, being sure to push it into the slits. Sprinkle 2/3 of the spice rub inside of the leg. Drizzle the oil over the leg. Massage the spices and olive oil into the meat.
4. Roll up the leg so that it resembles the shape of the initial leg of lamb. Tie the leg tightly with butcher twine. Season the exterior of the roast with the remaining spice rub. It is best at this point to wrap the leg in plastic wrap and marinate it for 12 to 24 hours in the refrigerator.
5. Place the lamb on a rack in a roasting pan. Place the pan in a 400 degrees F oven. Baste it periodically with the pan drippings. Cook it until it reaches an internal temperature of 130 degrees (using an instant read thermometer) for a nice medium rare-medium roast. This should take between 45 to 60 minutes.
6. Remove the lamb from the oven and the roasting pan, and let rest 10 to 15 minutes in a warm place. This resting period is crucial to a perfectly cooked roast as this allows the juices to spread evenly throughout the roast.
7. Slicing a leg of lamb requires a very sharp slicer. Remove the string and slice very thin slices. The thinner the slices, the more tender the meat will be. Serve with pipian rojo sauce -- click here for the recipe.
*Boneless lamb legs are generally wrapped in an elastic net. If the lamb leg is not boneless, ask your butcher to remove the bone by butterflying the leg open.