Recipes
Mediterranean Hamburger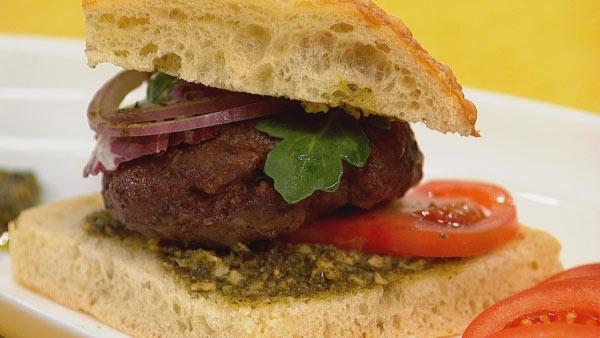 Servings: 4
Difficulty: Easy
Time:
Provided by: Chris Koetke
1 lb. ground beef (85% lean)
2 teaspoons dried oregano leaf
1 clove minced garlic
1 1/2 teaspoons ground fennel seed (it may be necessary to grind your own fennel seeds in a coffee or spice grinder)
2 teaspoons onion powder
1/4 teaspoon red pepper flakes
3/4 teaspoon salt
1/2 teaspoon ground black pepper
1/2 cup Spicy pesto (pesto mixed with hot sauce to taste)
Radicchio leaves
Arugula leaves
Tomato slices
Thinly sliced red onion
Fresh basil leaves
Warmed focaccia, split
Directions
1. In a bowl, mix beef, oregano, garlic, fennel seed, onion powder, red pepper flakes, salt, and black pepper until the mixture becomes elastic. Form 4 burgers.
2. Cook burgers on the grill or in a sauté pan until completely cooked through. They should not be red or pink in the middle when done.
3. Serve on focaccia that has been coated with spicy pesto. Serve with radicchio, arugula, tomatoes, red onion, and basil leaves so that your guests can personalize their burgers.
* The secret to a great hamburger is salt. When salt is mixed with raw cold meat, it results in a juicier burger that does not fall apart on the grill. It also makes it taste better. This recipe makes a full-flavored burger. Feel free to experiment with your own flavors! The fat balance is also important. I like to use ground beef that is about 85% lean. Leaning ground beef tends to dry out. One last hint -- these burgers are better if mixed up several hours before cooking and refrigerated until needed. This brings the flavors together and improves the final product.