Recipes
Malaysian Fried Rice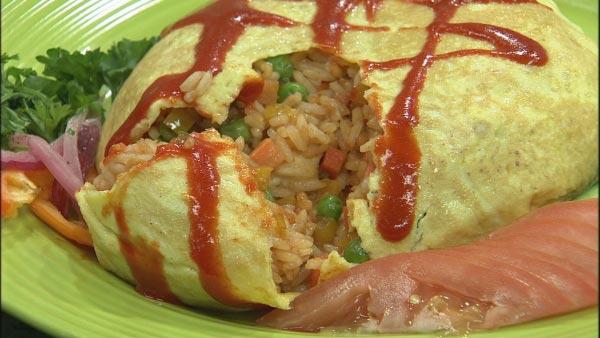 Servings: 1
Difficulty: Moderate-Difficult
Time:
Provided by: Chef Chris Koetke
3 Tablespoons vegetable oil
2 eggs, beaten
1 shallot, minced
1 clove garlic, minced
4 oz. boneless, skinless chicken breast, cut into dice
1/2 cup red or yellow peppers, cut into small dice
1/2 Serrano or Thai chile, minced
2 cups cooked rice, ideally left over rice from the day before
3/4 cup frozen peas and carrots, thawed
2 Tablespoons ketchup
2 Tablespoons fish sauce
1 teaspoon low sodium soy sauce
Tomato and cucumber slices
Sriracha sauce
Directions
1. In non-stick pan over high heat and with 2 teaspoons of vegetable oil, pour the beaten eggs into the pan. Immediately spread it out as thin as possible to the size of 12-14 inches. When it is lightly browned, flip it over and cook for a few more minutes. Unmold into a single portion salad/soup bowl (choose a larger rather than smaller/soup salad bowl) and reserve.
2. In a large sauté pan, sauté shallots and garlic in remaining oil until lightly brown and fragrant.
3. Add chicken, peppers and chile, and sauté until the chicken is cooked through and peppers are soft (about 5 minutes)
4. Add the rice and peas and carrots, and continue to sauté until all ingredients are hot.
5. Add in ketchup, fish sauce, and soy sauce.
6. Sauté for another 2 minutes. Then fill the bowl lined with the omelet with the rice mixture. Wrap the omelet around the rice, and then unmold onto a plate. Serve with cucumber and tomato slices and sriracha.