Recipes
Linguini with Clam Sauce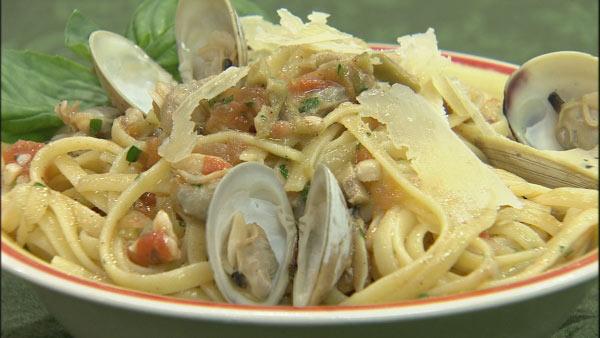 Servings: 2
Difficulty: Moderate
Time:
Provided by: Chef Chris Koetke
36 little neck clams
1/2 cup white wine
2 large garlic cloves
6 Tablespoons extra virgin olive oil
1 cup diced, seeded tomatoes
2 anchovy fillets, rinsed in cold water and minced
2 Tablespoons minced parsley
3 Tablespoons minced green olives
2 Tablespoons grated parmesan cheese
1/2 lb. linguini pasta
Directions
1. Scrub the clams in cold water to make sure that they are not sandy. Discard any that are not tightly closed.
2. Place the clams in a pan with the white wine. Cover and bring to a boil. Once it boils, reduce heat to a simmer. After only 4-6 minutes, the clams will open. Remove from heat immediately. Remove the clams and reserve. Pour the clam juice into a container and reserve.
3. In the same pan over moderate heat, sauté garlic in 4 Tablespoons of oil until lightly brown.
4. Add the clam juice to the pan, carefully pouring the clam juice to keep the sand (at the bottom of the bowl) out of the dish. (Basically when you are done pouring the clam juice into the pan, there will be a small amount of juice and all the sand left in the bowl.) Boil until the juice is reduced by half.
5. Add tomatoes and anchovy fillets. Continue cooking until the tomatoes soften (about 10 minutes).
6. Meanwhile, cook linguini in boiling salted water until al dente. Drain and coat with remaining 2 Tablespoons of olive oil. Keep hot.
7. Remove the clams from their shells and add to the tomato mixture. Cook for a couple of minutes or until the clams are heated.
8. Add the linguini to the tomato mixture. Mix to combine and add the parsley, green olives, and parmesan.