Recipes
Lacha Paratha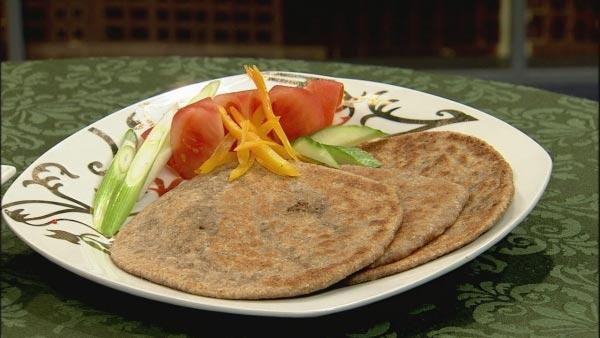 Servings: 20
Difficulty: Moderate
Time:
Provided by: Chef Chris Koetke
1 Tablespoon vegetable oil
1 1/2 Tablespoons fresh ginger, minced
1 serrano chile, minced
3 cloves garlic, minced
1 Tablespoon garam marsala
1/2 teaspoon ground cumin
3/4 teaspoon salt
1 pound ground lamb
2 recipes of chapatti dough
Yogurt raita (below)
Directions
Click here to get the chapatti dough recipe.
1. In a large sauté pan, saute ginger, serrano chile, and garlic in oil until the garlic is cooked through (about 2-3 minutes).
2. Add garam marsala and cumin. Cook for just about 30 seconds or until the spices are fragrant.
3. Add salt and lamb immediately. Cook until the lamb is crumbled and completed cooked.
4. Remove from pan and let cool.
5. To make the lacha parathas, divide dough into 20 pieces. Flatten each piece to about 4 inches in diameter. Place some lamb mixture in the middle of the dough and bring the edges of the circle together so as to make a ball with the lamb in the middle.
7. Roll each piece out until it is thin (about 1/8 inch) and about 6 inches in diameter. Dust the working surface with whole wheat flour to prevent sticking. Dust off excess flour from the finished lacha parathas.
8. Heat a saute pan until it is very hot. Place a lacha paratha in the pan. Cook for about 1 minute until it is lightly browned on one side. Flip and brush the top with clarified butter. When the second side is lightly browned, flip the lacha paratha over again and brush the top side with clarified butter. When the side that is buttered and touching the pan is starting to smoke and nicely browned, flip it over and cook the remaining buttered side until it too is done. (The lacha paratha will start to puff irregularly.)
9. Remove and serve hot with yogurt raita.
Yogurt Raita
This is best made about one hour before it is needed to let all the flavors come together.
Ingredients:
1 cup Greek yogurt
1/2 cup diced cucumber
1/2 cup diced tomato
1/4 cup diced red onion
1/2 teaspoon salt
1/2 cup minced cilantro
Sprinkle cayenne chile
1. Combine all ingredients.
2. Place in refrigerator until needed.
Note: While chapattis are essentially flatbreads that are served alongside the meal, lacha paratha are flatbreads filled with a fragrant lamb stuffing. They make a great appetizer and can be accompanied by a yogurt raita. The best thing is that they are made using the chapatti dough. Just be sure to serve them as soon as they are cooked.