Recipes
Kofta Kabob Pides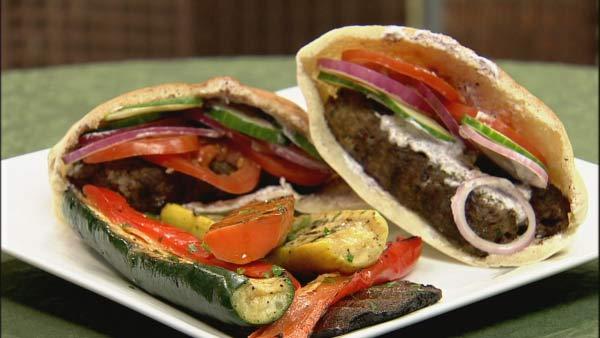 Servings: 3
Difficulty: Easy
Time:
Provided by: Chef Chris Koetke
1 lb. ground lamb
2 cloves garlic, finely minced
3 Tablespoons finely minced onion
1/4 cup minced parsley
1 teaspoon salt
3/4 teaspoon chile flake (decrease this amount if a moderately spicy taste is desired)
1/4 teaspoon ground allspice
1/4 teaspoon ground coriander
5 1/2 - 6 oz Greek-style (thick) plain yogurt
1 1/2 teaspoons ground sumac* (available at specialty spice shops)
Sliced tomato
Thinly sliced seedless cucumber
Thinly sliced red onion
3 large pita breads
Directions
1. In a bowl, combine lamb, garlic, onion, parsley, salt, chile flake, allspice, and coriander. Mix well until the meat is elastic.
2. In a separate bowl, combine yogurt and sumac.
3. To make the kabobs, take 1/6th of the meat mixture and roll it into an oval about 4 inches long. Press it around a metal skewer** and flatten slightly. Make another one and press onto the same skewer. Repeat with 2 more skewers and the remainder of the meat.
4. Grill the skewers over high heat until cooked through.
5. When the meat is done, place the pita breads on the grill until lightly toasted and warm.
6. To complete the sandwich, cut ¼ of the pita off and open up a pocket in the remaining pita. Spread the inside with the yogurt. Then slide 2 kofta kabobs into the pita. Finish by adding tomato, red onion, and cucumber. Serve immediately.
*Sumac is an acidic purple spice. If you are unable to find it, simply add 1 teaspoon of lemon juice to the yogurt instead.
**The skewers for these kabobs are typically metal skewers that are made of slightly flattened metal to prevent the kabobs from rotating on the skewer. If you cannot find these skewers, simply use 2 standard skewers, lined up parallel to each other instead.