Recipes
Irish Lamb Stew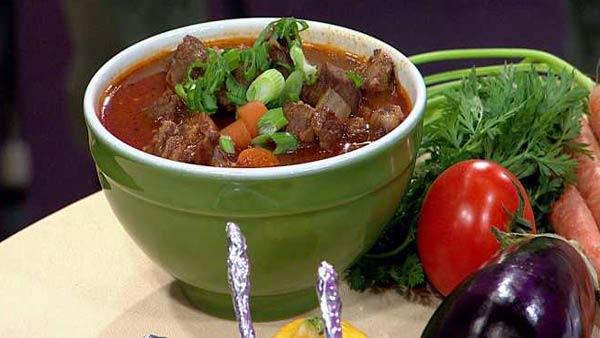 Servings: 2
Provided by: Chris Koetke
2 pounds lamb shoulder, cut in 1 1/2 - 2" cubes
1 1/2 teaspoons kosher salt
1 1/2 teaspoons ground black pepper
1/2 cup all purpose flour
1 1/2 Tablespoons vegetable oil
1 cup diced onion
3/4 cup carrots, peeled, cut into 1/4" rounds
1 Tablespoon minced garlic
2 Tablespoons tomato paste
2 bottles (12 ounce bottles) Guinness extra stout (if you don't want to drink the remaining half bottle, you can add it to the stew)
4 cups low sodium beef or chicken broth, depending on desired thickness
1/4 cup pearl barley
1 bay leaf
1 teaspoon dried thyme
8 small red potatoes, peeled and quartered (approximately 1 pound)
Directions
1. Season lamb with 1teaspoon salt and 1 teaspoon pepper. Dredge in flour, patting off excess.
2. Heat 1 Tablespoon vegetable oil in a large stockpot over high heat.
3. Sear lamb for two minutes on each side until nicely browned. Remove from pan with slotted spoon and set aside. (This should be done in batches to avoid overcrowding the pot.)
4. Add remaining oil, onions, and carrots. Sauté for 3 minutes while scraping the bottom of the pot to remove all the brown bits.
5. Stir in garlic and tomato paste and cook for 2 more minutes.
6. Pour in stout and broth. Stir in barley, remaining salt and pepper, bay leaves, thyme, and seared lamb. Bring to a boil, then lower heat to maintain a simmer. Cover and cook for 1 hour.
7. After 1 hour, add potatoes. Continue cooking, partially covered, until lamb is fork tender, about 45 minutes more. Add additional broth if the stew is too thick.
8. Discard bay leaf and serve.
Nutritional Analysis:
Cals: 456 TFat: 22gm S.Fat: 9gm Chol: 65mg Sod: 612mg Carb: 39gm Fib: 4gm Pro: 26gm