Recipes
Individual Smoked Salmon Terrines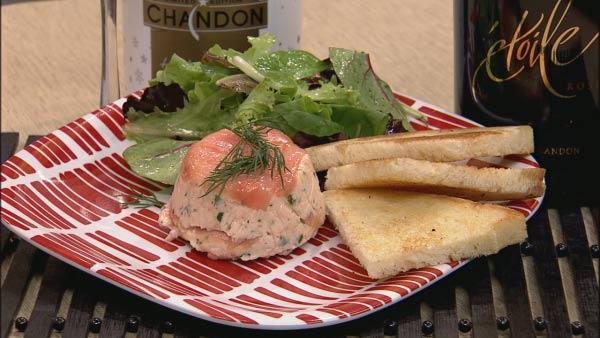 Servings: 6
Difficulty: Easy
Time:
Provided by: Chef Chris Koetke
16 oz. cold smoked salmon, divided (this is the thinly sliced salmon that typically is served on bagels, etc)
1/4 cup mayonnaise
3/4 cup cream cheese, softened
1 teaspoon capers, minced
2 teaspoons lemon zest
1 teaspoon minced fresh dill or 1/2 teaspoon dried dill
2 teaspoons chopped fresh parsley
3 cups mixed field greens (mesclun)
3 Tablespoons extra virgin olive oil
1 Tablespoon lemon juice
Pinch salt and ground black pepper
Fresh dill or parsley for garnishing
Toast points
Directions
1. Puree 12 oz. of smoked salmon with mayonnaise and cream cheese in a food processor until smooth.
2. Pour salmon/mayonnaise mixture into a bowl.
3. Add capers, lemon zest, parsley and dill to the mixture. Taste and adjust seasoning with salt and pepper.
4. Lightly coat 6 muffin tins with water so they are barely damp. This helps the plastic wrap stick to them.
5. Line muffin tins first with plastic wrap and then a layer of smoked salmon on the bottom of each tin.
6. Fill the lined containers with half of the mousse mixture, followed by another layer of the remaining smoked salmon. Finish filling with the remaining half of the salmon mousse mixture.
7. Place in refrigerator and allow to chill for at least 2 hours, but preferably overnight.
8. To serve, unmold the individual terrines onto appetizer plates. Make a small salad composed of mixed field greens tossed with lemon juice, extra virgin olive oil, salt and pepper. Garnish the plates with this salad and the tops of the terrines with fresh parsley or dill. Serve with toast points.
Note: Choose the finest smoked salmon you can get as the quality of the smoked salmon is crucial to the success of the dish. While it is luxurious, it is still very simple to prepare and should be made one day in advance. Enjoy with a bottle of your favorite Champagne.