Recipes
Hot Potato and Spinach Salad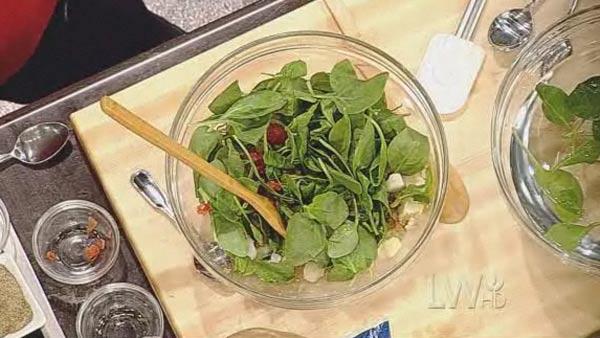 Servings: 2
Provided by: Chris Koetke
2 each russet potato
3 ounces spinach leaves, whole
1/4 cup tomato, diced
2 tablespoons diced red onion black pepper, ground
1/4 cup vinaigrette, mustard (recipe below)
Directions
Poke each potato several times with a fork. Microwave for 7-9 minutes or until the potatoes are tender. Cut hot potatoes into a large dice and place in a large mixing bowl. Let the potatoes cool off slightly. Add remaining ingredients and stir. Add freshly ground black pepper to taste.
Per Serving (excluding unknown items): 210 Calories; 16g Fat (65.6% caloriesfromfat); 3g Protein; 16g Carbohydrate; 2g Dietary Fiber; omg Cholesterol; 29mg Sodium. Exchanges: 1 Grain(Starch); 1/2 Vegetable; 3 Fat.
Mustard Vinaigrette
Ingredients:
1 clove garlic
1/4 cup red wine vinegar
3 tablespoons dijon mustard
1 tablespoon herbs, dried
1/4 cup olive oil
2 tablespoons olive oil
1/4 cup vegetable oil
1/2 teaspoon salt
1/8 teaspoon sugar
Whisk together garlic, vinegar, mustard, and dried herbs in a large bowl. Drizzle oils, very slowly at first, whisking constantly. As the oils are incorporated into the vinaigrette, add them at a faster pace, whisking constantly. Add salt, black pepper and sugar.
Store in the refrigerator until needed. This vinaigrette is best made 1 day in advance. If it separates in the refrigerator, simply let a portion of it warm up to room temperature and whisk it together to recombine.
Yield: I cup
Servings: 4
Per Serving (excluding unknown items): 312 Calories; 34g Fat (96.8% calories from fat); 19 Protein; 2g Carbohydrate; trace Dietmy Fiber; Omg Cholesterol; 408mg Sodium. Exchanges: 0 Lean Meat; 0 Vegetable; 7 Fat; 0 Other Carbohydrates.
Christopher Koetke has been a culinary instructor at The School of the Culinary Arts of Kendall College since January 1998. In 2002, he was named Associate Dean of the Culinary School. Along with the move to the new Riverworks campus, he became Dean of the Culinary School in 2005.