Recipes
Homemade Herbed Cheese Appetizers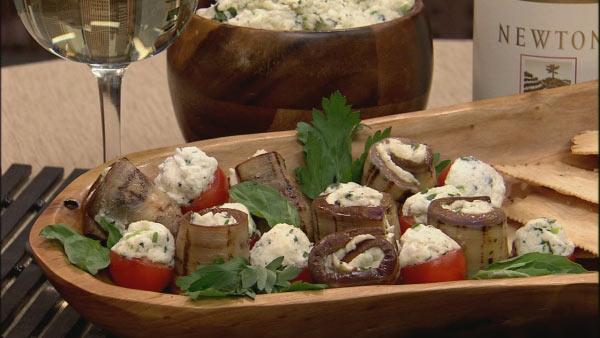 Difficulty: Moderate
Time:
1 gallon whole milk
2/3 cup lemon juice
1/2 cup heavy cream (or more milk if you wish to keep the calorie count down)
2 green onions, minced
1/4 cup minced fresh herbs (i.e. parsley, tarragon, basil, cilantro, etc)
1 teaspoon salt
1/2 teaspoon black pepper
1 teaspoon Dijon mustard
2 teaspoons lemon juice
Japanese eggplant
Cherry tomatoes
Directions
1. In a large pot, bring the milk to a boil. Turn off heat.
2. Add 2/3 cup lemon juice. Stir briefly and let it sit until it has fully coagulated (there will be white solid pieces and a yellowish-greenish liquid.
3. Carefully ladle the contents of the pot into a strainer lined with 2 thicknesses of cheesecloth. Let the strainer sit until all the liquid has drained.
4. Put the drained cheese into a bowl. Add cream, herbs, salt, pepper, mustard, and lemon juice. Taste or seasoning and feel free to adjust according to your taste.
5. Serve with toast points, bread, or crackers. You can also try one of the two options below:
Option 1:
Eggplant Rolls
1. Remove ends of Japanese eggplant. Slice lengthwise into thin slices. Brush with olive oil and season with salt and pepper.
2. Grill slices just until softened. Remove from grill and let chill.
3. Spread a thin layer of cheese and roll up tightly. (If the roll is too fat, cut the next slice in half before rolling more.)
Option 2:
Stuffed Cherry Tomatoes
1. Cut the tops off of the cherry tomatoes. Cut a sliver off the end of them so that they sit up straight.
2. Scoop out the center of the cherry tomatoes using a small melon baller.
3. Fill the cherry tomatoes with cheese.
Yield: 4 cups