Recipes
Homemade Citrus and Dried Fruit Scones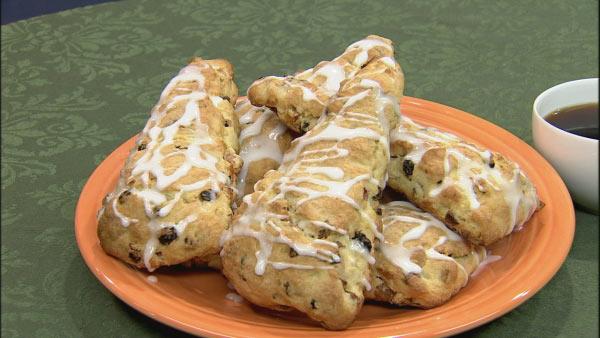 Servings: 8-10
Difficulty: Easy
Time:
Provided by: Chef Chris Koetke
2 3/4 cups all-purpose flour
1/3 cup sugar
Pinch salt
1/4 teaspoon ground cardamom
1 1/2 Tablespoons baking powder
1 stick cold butter, cut into small pieces
1 egg
1 egg yolk
3/4 cup whole milk
2 teaspoons orange zest
1/2 cup dried apricots, cut into small dice
1/2 cup dried currants
1/4 cup sliced almonds
1/4 cup pecan pieces
1 1/4 cups powdered sugar
7 teaspoons lemon juice
Directions
1. Sift the flour, sugar, salt, cardamom, and baking powder together into a large bowl.
2. Add the butter and mix by hand until it resembles a coarse meal.
3. In a separate bowl, beat the egg, egg yolk, milk, and orange zest.
4. Add the milk/egg mixture, apricots, currants, almonds, and pecans to the dry ingredients. Mix briefly to create cohesive dough.
5. On a floured surface, press dough into a rectangle that is about 15" x 4" and about 1" thick.
6. Cut into triangles and gently place scones on a baking sheet lined with parchment paper or lightly greased.
7. Bake the scones at 425 degrees F for 15 to 20 min. until a light golden brown.
8. When done, remove from the oven and place the scones on a cooling rack.
9. In a small bowl, combine powdered sugar and lemon juice.
10. While the scones are still warm, spread the lemon icing on top of them.
11. Ideally serve the scones while they are still warm for a real treat.