Recipes
Holy Moly Chicken Frijole Meatloaf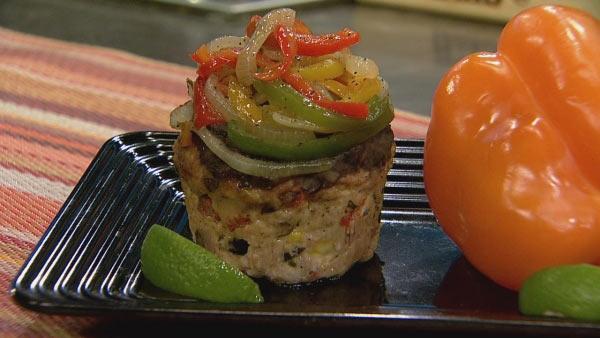 Servings: 8
Difficulty: Moderate
Time:
Provided by: Cynthia Kallile of the Meatloaf Bakery
1/2 c drained frozen corn
1/2 c drained black beans
1/2 c diced red onion
1/3 c diced red peppers
1/3 c diced yellow peppers
1/3 c. diced green peppers
1 T minced garlic
1/8 tsp fine sea salt
1/8 tsp ground black pepper
1 tbsp canola oil
1.5 lbs fresh ground chicken (mix of dark and white meat)
3 fl oz fresh lime juice (strained)
1 egg
2 cups panko bread crumbs
1/4 c fresh chopped cilantro
3/4 c petite diced tomatoes (drained)
1/2 tsp paprika
1 1/2 tsp coarse sea salt
1/2 tsp ground black pepper
1/4 tsp cayenne pepper
1/4 tsp garlic powder
1/4 tsp onion powder
1/4 tsp chili powder
1 tsp cumin
3 tbsp sour cream
Directions
1. Lightly sauté first 9 ingredients in canola oil till softened. Cool. Add cooled mixture to remaining ingredients.
2. Mix well. Grease loaf pan (may use cupcake pan or individual foil cups.) Portion raw mixture and place in containers.
3. Bake in 375 degree for 30 minutes or till internal temperature reaches 165 degrees. Cool and unmold.
Topping:
1 medium-size green bell pepper - julienne
1 medium-size yellow bell pepper - julienne
1 medium -size red bell pepper - julienne
1 medium - size yellow onion
1/8 tsp fine sea salt
1/8 tsp ground black pepper
1 tbsp canola oil
1 15- oz can drained and mashed black beans

1. Sauté peppers, onions, S&P in canola oil till softened, but still colorful. Drain and cool.

2. Spread thin layer of bean mixture on loaf/cupcakes. Place pepper/onion mixture on top of the bean spread.

Serve with sour cream-lime sauce:
2 cups sour cream
4 tbsp fresh lime juice (strained)
1 tsp dry cilantro
1 tsp fresh garlic -- mashed
1/4 tsp sea salt to taste