Recipes
Herb Poached Halibut with Braised Leeks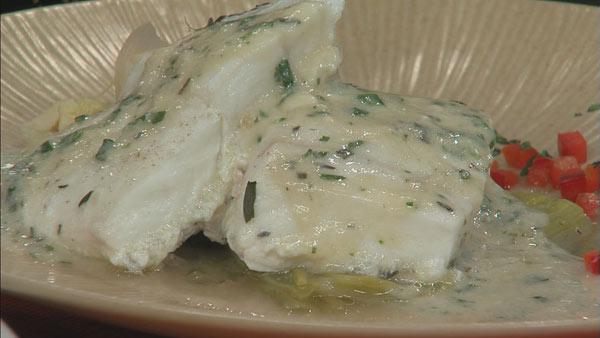 Servings: 4
Provided by: Chris Koetke
3 Tablespoons butter, room temperature
3 Tablespoons finely minced shallot (about 1 large shallot)
4 6 oz. pieces of Halibut -- the thicker the better -- seasoned with 1/8 teaspoon salt and 1/8 teaspoon white pepper
1/4 cup dry white wine
1/2 cup low sodium chicken broth
2 pinches dried thyme
1 teaspoon fresh minced tarragon leaf
1/4 cup evaporated skim milk
1 1/2 teaspoons cornstarch dissolved in 1 tablespoon cold water
1 1/2 teaspoons minced chives
1 1/2 teaspoons minced parsley
1/8 teaspoon salt
2 leeks, each about 12 oz.
1/4 cup dry sherry
2 1/2 cups low sodium chicken broth
2 bay leaves
1/4 teaspoon dried bay leaf
1/8 teaspoon ground black pepper
Directions
1. In an oven-proof sauté pan that is large enough to hold one later of halibut, saute shallot in 1 tablespoon butter until tender but not browned (about 2 minutes).
2. Place fish in pan. Top the fish with the remaining butter. Pour the white wine, broth, thyme, and tarragon around the fish. Continue heating just until steam starts coming off the broth.
3. Cover and transfer to a 350 degrees oven and cook for 10-15 minutes. Remove fish from the oven when the center is still slightly underdone. Remove fish from the pan, cover the fish and keep warm.
4. Meanwhile, place the pan over high heat and bring to a boil. Boil for 2 minutes and then add the evaporated milk. Bring to a boil and pour in the cornstarch slurry, while stirring constantly. Bring back to a boil. Add chives, parsley, salt, and perhaps more pepper.
5. To serve, place a braised leek half on a plate. Top with a piece of fish and pour the sauce over.
Braised leeks
1. Cut the leeks lengthwise and run each half under running water to be sure that they are very clean.
2. Place the leeks in a tightly fitting oven-proof container so that they just fit inside the container. If may be necessary to cut the leek halves in half once again so that they fit.
3. Add sherry, chicken broth, bay leaves, dried bay leaf, and black pepper. Bring to a boil on top of the stove, cover and transfer to a 350 degrees oven. Cook for 1 1/4 - 1 1/2 hours or until the leeks are very tender. (This can be prepared in advance and reheated as needed. The broth is not used when serving the leeks, so be sure to save it for a later batch of soup!)
Nutritional Analysis:
Cals: 337, T.Fat: 13gm, S.Fat: 6gm, Chol: 78mg, Sod: 447mg, T.Carb: 14gm, Fiber: 1gm, Pro: 39gm