Recipes
Hearty Green Soup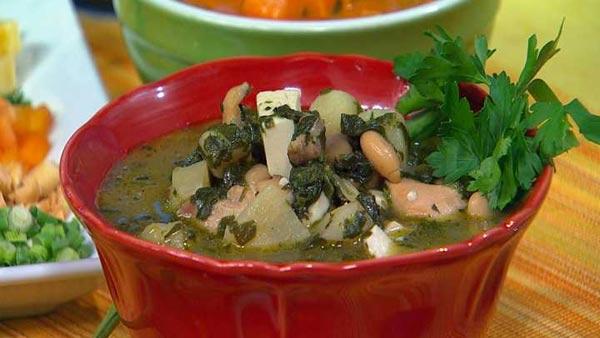 Servings: 6
Provided by: Chris Koetke
1 1/2 lbs. chicken thighs
2 Tablespoons olive oil
1 cup diced white onion
1 1/2 cups diced poblano chile
2 cloves minced garlic
3 cups diced russet potatoes
4 cups low sodium, fat-free chicken broth
1/4 teaspoon dried thyme leaf
1/2 teaspoon ground black pepper
1/2 teaspoon salt
2 teaspoons ground cumin
1 teaspoon ground oregano
1 lb. fresh spinach leaves
15 oz. can white beans, drained and rinsed
1/4 cup grated parmesan cheese, chopped fine
12 oz. extra firm silken tofu, diced
Directions
1. Remove skin, bones, and excess fat from chicken thighs. Dice and reserve.
2. In a large sauce pan, sauté onion and poblano in 1 Tablespoon of oil until soft. Add garlic and cook 1 more minute.
3. Add potatoes, broth, thyme, black pepper, salt, cumin, oregano, and reserved chicken. Bring to a boil and reduce heat to a simmer. Cook for about 30 minutes or until the potatoes are soft and completely cooked.
4. In a large sauté pan, sauté spinach in remaining 1 Tablespoon of olive oil over high heat. Cook until the spinach has softened which will only take a few minutes. Add to soup.
5. Add white beans, tofu and Parmesan cheese. Stir gently and simmer until all ingredients are hot. Serve.
Nutritional Analysis: Cals: 506, T.Fat: 22gm, S.Fat: 6gm, Chol: 78mg, Sod: 714mg, T.Carb: 41 gm, Fib: 8 gm, Pro: 38gm