Recipes
Healthy Crepes Suzettes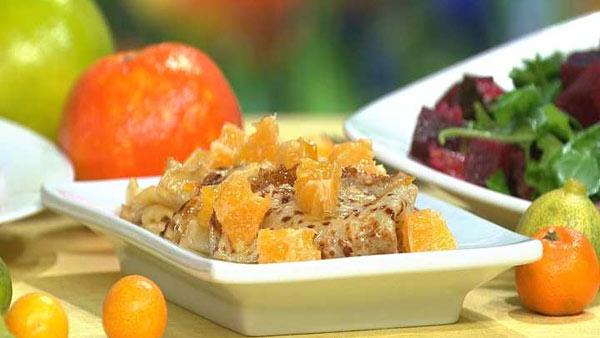 Servings: Yield: at least 6 servings (18 crepes)
Provided by: Chris Koetke
2 Tablespoons unsalted butter
3/4 cup and 2 Tablespoons sugar
1 Tablespoon orange zest (the orange part of the skin, finely minced)
Juice of 6 oranges (about 1 1/2 cups with light pulp)
Juice of 1/2 lemon (about 1 Tablespoon)
2 Tablespoons Grand Marnier
1 1/2 teaspoons cornstarch dissolved in 1 Tablespoon cold water
Directions
1. Melt butter in saute pan.
2. Add half of the sugar and zeste. Cook together for about 2 minutes over moderate heat.
3. Add remaining sugar, orange and lemon juices and mix well. Boil the mixture rapidly for 3-4 minutes.
4. Add Grand Marnier and bring to a boil. Add dissolved cornstarch while stirring constantly. Bring back to a full boil, remove from heat and let cool.
Crepes:
Yield: 20 6" crepes Ingredients:
1 egg
3 egg whites
1/2 cup all purpose flour
2 Tablespoons sugar
1/4 teaspoon salt
1 cup fat-free milk
1 Tablespoon melted butter
1. Whisk egg and egg whites briefly. Add flour, sugar and salt. Whisk just until smooth. Add milk and mix. Add butter and mix.
2. Heat a non-stick sauté pan over high heat until hot. Spray with pan spray. Pour a small amount of crepe batter, swirl the pan to spread the batter evenly over the bottom of the pan. Return the pan to the heat. When browned on one side, turn the crepe over and finish cooking.
3. Continue making the remaining crepes, adding more pan spray to the pan as necessary. Once the crepes are cool, stack and reserve.
Assembling the Crepes Suzettes:
Ingredients:
3 clementines, peeled and diced
3 Tablespoons (or more) Grand Marnier
1. Over moderate heat, heat several tablespoons of crepe suzette base. Add clementines and cook for several minutes.
2. Add about half of the crepe suzette base to the pan. One by one, dip each crepe (both sides) in the base. When well coated, fold each crepe in quarters while still in the pan.
3. Arrange the crepes around the outside of the pan. Continue adding more crepes and base as necessary. (Depending on your tastes, you may not wish to add all the base.)
4. When the bottom of the pan is covered with a single layer of folded crepes, heat Grand Marnier in a separate pan, ignite and pour over the crepes in front of your guests.
5. When the flames have subsided, serve while still warm.
Nutritional analysis: Cals: 319, T.Fat: 7gm, S.Fat: 4 gm, Chol: 47mg, Sod: 168 mg, T.Carb: 57gm, Fib: 1 gm, Pro: 6gm