Recipes
Hanukkah's Jelly Donuts (Sufganiyot)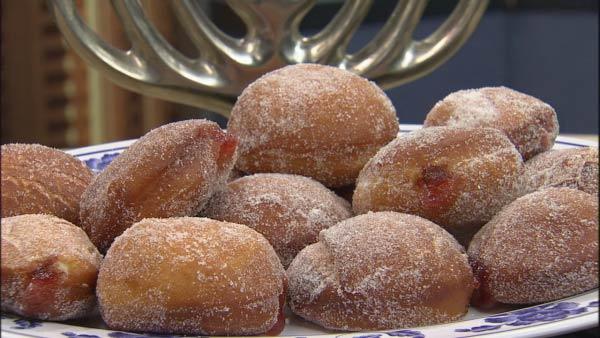 Servings: 12 donuts
Difficulty: Moderate
Time:
1 package dry yeast
1/2 cup whole milk
1/4 cup sugar plus 2 pinches
2 eggs
2 1/2 cups flour
3 Tablespoons unsalted butter
1/4 teaspoon ground nutmeg
1/4 teaspoon ground cinnamon
1/2 teaspoon salt
1 cup jam of your choice (it should be without chunks or seedsi.e. raspberry, strawberry, apricot, etc.)
Directions
1. Warm milk to 110-115°F. Add 2 pinches of sugar and yeast. Let sit for 5-10 minutes until it is frothy. 2. In the bowl of a sturdy electric mixer, combine yeast/milk, remaining sugar, eggs, flour, butter, nutmeg, cinnamon, and salt. Using the dough hook, mix on low-medium speed until it has formed an elastic dough (about 5 minutes). 3. Remove the dough hook and cover the bowl with a kitchen towel. Place the bowl in a warm spot in the kitchen and let it sit for 1-1 1/2 hours, or until the dough has doubled in size. 4. Remove the dough from the bowl and place on a floured surface. Pat or roll the dough until it is 1/2-inch thick. Using a 2 1/2-3 inch round cutter, cut out 12 circles. It will be necessary to combine the scraps and re-roll them out in order to use up all the dough. 5. Place the circles on a floured baking sheet. Cover with a kitchen towel and place in a warm part of the kitchen. Let it sit until the circles have doubled in size (about 30-45 minutes). 6. Cook the risen circles in a deep fryer with 350°F oil. Turn them as soon as they are light brown on one side. When they are done, remove them from the fryer and place on a plate lined with paper towels to absorb the excess oil. 7. While the donuts are still warm, fill a pastry bag fitted with a ¼-inch round tip with the jam. Insert the tip into the side of each donut and squeeze about 1 1/2 Tablespoons of jam into each. If desired, the filled donuts can also be rolled in additional sugar. Serve ideally while still warm.