Recipes
Grilled Tenderloin with Mango Chutney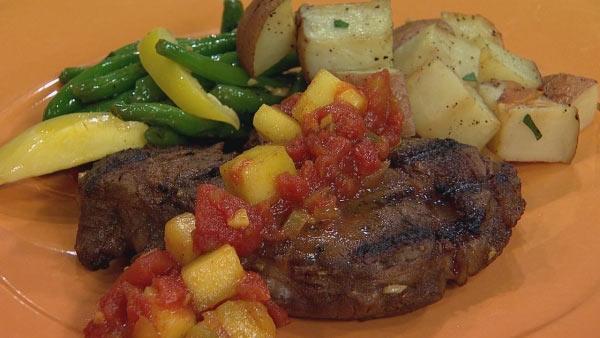 4 6 oz. beef tenderloin steaks
2 minced garlic cloves
1 1/2 teaspoons curry powder
1 Tablespoon extra virgin olive oil
1/2 teaspoon salt
1/2 teaspoon ground black pepper
Spicy Tomato Mango Chutney (below)
Directions
1. Combine all ingredients except the salt, pepper, and spicy tomato mango chutney. Let marinade for 2-24 hours in the refrigerator.
2. Before cooking, remove from refrigerator and let warm to room temperature for an hour.
3. Season with salt and pepper. Grill over high heat to desired doneness. Serve with spicy tomato mango chutney.
Spicy Tomato Mango Chutney
1/2 cup onion, finely diced
1 Tablespoon olive oil
1/2 Serrano chile, minced
2 Tablespoons minced fresh ginger
1 garlic clove, minced
1 teaspoon curry powder
1/4 teaspoon ground cardamom
4 cups diced seeded tomatoes
1/4 cup red wine vinegar
2 Tablespoons sugar
1/4 teaspoon salt
1 mango, diced
1. In a saute pan, sauté onion in oil until translucent. Add chile, ginger, and garlic and cook several more minutes.
2. Add curry powder and cardamom and cook for 30 seconds or until the spices are fragrant.
3. Add tomatoes and sauté for 5-8 minutes or until most of the excess liquid has evaporated.
4. Add vinegar, sugar, and salt. Cook for several minutes.
5. Add mango and cook for several minutes.
6. Let cool. This can be made 2 days ahead of time, kept in the refrigerator and lightly reheated when needed.
Nutritional Analysis: Cals: 134, TFat: 11gm, SFat: 4gm, Chol: 30mg, Sod: 287mg, Carb: 1gm, Fib: trace gm, Pro: 8gm