Recipes
Grilled Ginger Hoisin Shrimp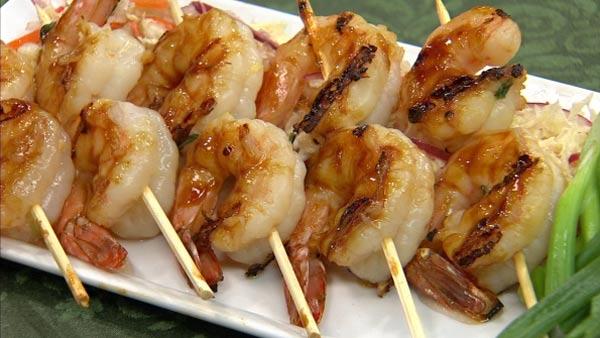 Servings: 4
Difficulty: Easy
Time:
Provided by: Chris Koetke
1 lb. very large shrimp, peeled and de-veined
2 Tablespoons soy sauce
1 teaspoon hoisin sauce
2 Tablespoons minced ginger
2 minced scallions
Several dashes hot sauce
2-1/2 Tablespoons sake
6 inch skewers (if wooden, be sure to soak in water for at least 6 hours prior to use)
Additional hoisin sauce for brushing on the finished shrimp
Directions
The trick to this shrimp dish is to marinade for 12-24 hours so that it penetrates the meat.
1. Mix together soy sauce, hoisin sauce, ginger, scallions, hot sauce, and sake.
2. Toss shrimp in this mixture. Let the shrimp marinate for 4 hours in the refrigerator.
3. Remove the shrimp from the marinade. Skewer 1 or 2 shrimp lengthwise on to 2 skewers.
4. Grill over high heat until the first side of the shrimp is nicely browned. Turn the shrimp over and continue grilling. Brush with additional hoisin sauce. Cook the shrimp until they are just barely translucent in the center. Depending on the size of the shrimp, this will take around 5-8 minutes. If the shrimp are overcooked, they can become rubbery.