Recipes
Greek Spinach and Egg Breakfast Pita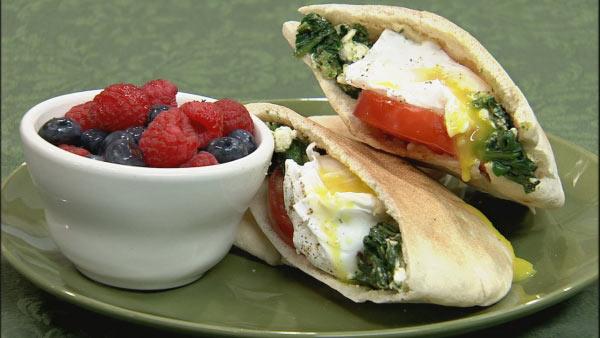 Servings: 6
Difficulty: Moderate
Time:
Provided by: Chef Chris Koetke
1 bunch green onions (scallions), thinly sliced
2 Tablespoons extra virgin olive oil
6 oz. baby spinach
2 Tablespoons minced parsley
1/4 teaspoon salt
1/8 teaspoon ground black pepper
1 1/2 Tablespoons minced fresh dill
3 oz. crumbled feta cheese
4 oz. hummus
6 eggs, as fresh as possible
1 Tablespoon vinegar (pretty much any variety: white wine, red wine, apple cider, distilled)
6 large pita bread halves
6 large tomato slices
Directions
1. In a saute pan, sauté the green onions in olive oil over moderate heat. When they have softened (about 3 minutes), add spinach, parsley, salt, pepper, and dill. Continue cooking just until the spinach has softened. Remove from the pan and place in a bowl.
2. Add feta cheese to the spinach mixture and keep warm.
3. Meanwhile, heat a medium saucepan with about 4 inches of water and the red or white wine vinegar until the water is barely simmering. Crack eggs into individual bowls. Gently slide each egg into the water so as to keep it as together as possible. (Once the eggs firm up, you can even try to envelope the yolk with the white by carefully wrapping the white around the yolk with a slotted spoon. This step is optional though.)
4. Cook the eggs for 3-5 minutes or until the whites are solid and the yolk is still soft. Remove eggs from water and season with additional salt and pepper.
5. Warm the pita bread halves in the oven or on a griddle.
6. To complete the dish, smear hummus on the inside of the pita breads. Then fill with spinach and top with a seasoned egg. Slide a tomato slice into the pita and serve immediately.