Recipes
Grass Fed Beef Short Ribs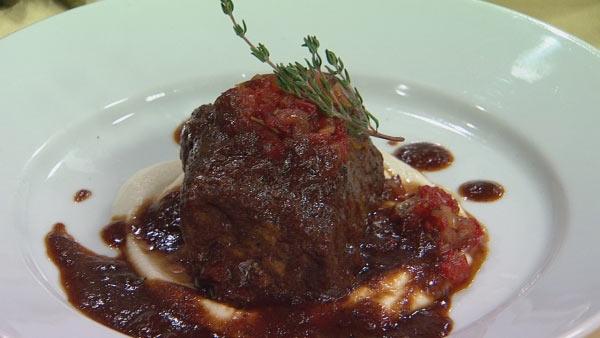 6 Grass Fed Beef Short Ribs, Seasoned with Salt and Pepper
1T Vegetable Oil
1 Carrot, Peeled and Sliced
1 Onion, Peeled and Sliced
1 Bulb Fennel, Sliced
4 Cloves Garlic
1 Bay Leaf
1 Small Bunch Fresh Thyme
1/4 C Tomato Paste
1 C Red Wine
1/4 C Red Wine Vinegar
3/4 C Red Wine
Veal or Chicken Stock, To Cover
Directions
1. Over medium high heat, in a heavy bottomed saute pan (or cast iron), sear the short ribs in oil until dark brown on all sides.
2. Remove the ribs from pan, placing in a lidded casserole dish or other oven safe dish that can be easily sealed with aluminum foil. Carefully drain the fat from saute pan.
3. Return pan to medium heat and add carrot, onion, fennel, garlic, bay leaf, thyme, tomato paste, red wine & red wine vinegar. Cook until the liquid is thick and syrupy.
4. Place reduced liquid over ribs, spreading the vegetables around the ribs. Add fresh red wine and stock to just cover the ribs.
5. Cover the rib pan and place in a preheated 350 degree oven. Cook 2 to 2 1/2 hours or until the ribs are tender and almost falling off the bone.
6. Remove lid from dish and let cook in the oven an additional 30 minutes until the liquid has thickened slightly and has glazed the ribs.
7. Makes excellent leftovers! Serve with polenta, mashed potatoes, or mashed root vegetables.
Nutritional Analysis: Cals: 499, TFat: 42g, Sfat: 18g, Chol: 86mg, Sod.: 216mg, TCho: 6gm, Fib: 1gm, Pro:18gm