Recipes
Gluten-Free Chocolate Peanut Butter Cookies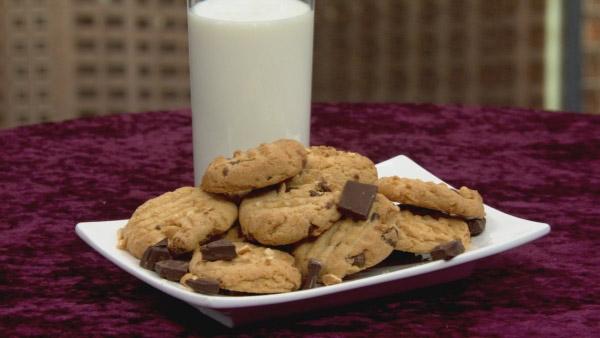 Servings: 24 cookies
Difficulty: Easy
Time:
Provided by: Chris Koetke
6 Tablespoons softened, unsalted butter
1/4 cup creamy peanut butter
1 1/4 cups brown sugar
1 egg
1 teaspoon vanilla extract
3/4 cup rice flour
3/4 cup potato starch
1/2 cup tapioca starch
1 teaspoon xanthan gum
1/4 teaspoon salt
1/2 teaspoon baking powder
3/4 cup gluten-free semi-sweet chocolate chips
1/2 cup gluten-free peanut butter chips (if you cannot find them, you can substitute with chopped roasted peanuts)
Directions
1. In a mixer with the paddle attachment, mix butter, peanut butter, and brown sugar until smooth.
2. Add egg and vanilla extract. Mix until combined.
3. In a bowl, combine rice flour, potato starch, tapioca starch, xanthan gum, salt, and baking powder.
4. Add the flour mixture to the mixing bowl. Mix until homogenous.
5. Add chocolate chips and peanut butter chips. Mix just until combined.
6. Place balls of cookie dough on lightly greased baking sheets. (This recipe will make about 24 cookies). Flatten the cookies using a fork.
7. Place the baking sheets in a 375° F oven. Bake for about 20 minutes or until the cookies are lightly browned.
8. Remove from the oven and transfer the cookies to a cooling rack.