Recipes
Gluten-Free Asian Noodle Salad with Sauteed Shrimp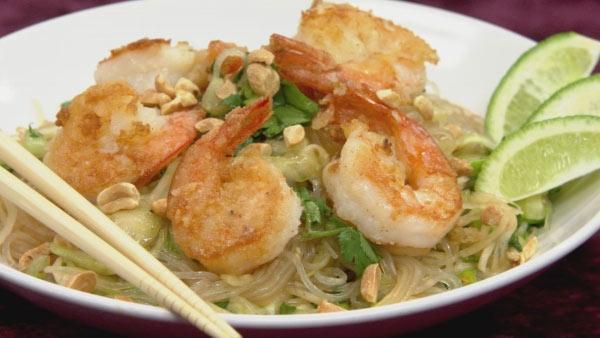 Servings: 6
Difficulty: Easy
Time:
Provided by: Chris Koetke
8 oz. dried gluten-free cellophane noodles
1/2 cup finely diced celery
3/4 cup julienne daikon radish (cut like short matchsticks or coarsely grated)
1 1/2 cups cucumber (slice the cucumber lengthwise, scoop out the seeds, and slice thinly)
1/4 cup thinly sliced green onions
1/2 cup coarsely chopped cilantro
1/4 cup low-sodium gluten free soy sauce
3 Tablespoons lime juice
1/2 Tablespoon sirachi hot sauce
1 Tablespoon minced fresh ginger
3 Tablespoons fish sauce*
3 Tablespoons sugar
1 1/2 pounds peeled and deveined raw shrimp (with or without the tail)
Rice flour for dredging
Vegetable oil for sauteing
1/2 cup salted roasted peanuts
Directions
*Fish sauce in a Southeast Asian condiment that is made from fermented fish. It is strongly flavored, but in small quantities, adds a depth of flavor to this and other Southeast Asian dishes.
1. Place cellophane noodles in a large pot of boiling salted water. Cook for about 4 minutes or until they are al dente. Drain and rinse under cold water. Let drain thoroughly.
2. Place noodles in a large bowl. Add celery, daikon, cucumber, green onions, and cilantro.
3. In a separate bowl, whisk together soy sauce, lime juice, sirachi, ginger, fish sauce, and sugar until well combined. Pour over the noodles and vegetables. Stir until well combined.
4. Dredge shrimp in rice flour. In a hot sauté pan, saute dredged shrimp in oil until cooked through and lightly browned.
5. Place noodle salad in individual serving bowls. Top with shrimp, sprinkle with peanuts and serve.